This week we have registered five new major short campaigns. Stocks in focus are, on average, 19% lower than before the short calls.
After a few quiet weeks, the activists came back with a bang. We saw Muddy Waters come out and target an alleged payments fraud. The stock cratered immediately on the day of the report by 50%. Scorpion targeted new supposedly dubious biotech. The stock also dropped and is now down over 30%. The three others were not as impactful but hardly less interesting.
Lastly, we are tracking the most recent stock price gyrations at several previous targets. We feature a failing crypto company, a satellite company which crashed recently and a Chinese-based retailer which is ignoring the allegations so far.
---
Bits and Pieces
Vindication for Viceroy from South Africa
The @fscasouthafrica's case & penalty against Viceroy Research have just been thrown out. No doubt they will claim this is a technicality: false. We are exploring options for holding the #FSCA accountable for malicious persecution. Thanks to @SnaidMorrisInc for their hard work!

— Viceroy (@viceroyresearch) November 15, 2022
Michael J Burry of The Big Short fame:
Michael Burry just tweeted: "You have no idea how short I am."

pic.twitter.com/nyUOjeCzfc

— Cheddar Flow (@CheddarFlow) November 16, 2022
Founder of Hindenburg on SBF:
Sam Bankman-Fried is just out here confessing to Vox.

This guy is just a total garbage human.#SBF_FTXhttps://t.co/SMbRAwFIf4pic.twitter.com/ObiJgHhd1U

— Nate Anderson (@ClarityToast) November 16, 2022
---

---
Big Movers
This week we saw several stocks that moved in the right direction for the short-sellers. This week was special in that several of the biggest movers were also new campaigns released this week (DLO, TWST, PVBC). However, we cover this activity in a separate section.
Thus among the biggest movers which were not targeted this week was Singularity Future Tech (SGLY), which dropped about 58% in the past week. This crypto company was targeted by several activists, most notably by Hindenburg Research. The activist targeted SGLY due to allegations of serious fraud.
Most importantly, the report believed the company's latest effort in crypto mining is based on fraudulent related-party transactions which are unlikely to be based on reality. SGLY's assets also seemed to have been bought from a regular third-party rather than its own proprietary products. The latest client announcement again raises red flags as the supposed customer had its website launched only a day before SGLY announced its partnership.
The thesis has played out as the company is now down over 80% since the report. The latest reason for the stock to come down was highlighted by Hindenburg and seems to suggest that the allegations might even have a legal consequence.
$SGLY reports that it has received subpoenas from the SEC and SDNY office of the DoJ.

Following our report, the CEO (who is a fugitive in China accused of running a massive Ponzi scheme) was forced to resign and the CFO was fired.

Still Nasdaq-listed.https://t.co/rXut1bKUzmhttps://t.co/VjgWz4knss

— Nate Anderson (@ClarityToast) November 16, 2022
Another stock that went down was AST Spacemobile (ASTS). The stock fell about 23%. Initially, it was Kerrisdale Capital who targeted this satellite company due to allegations of a dubious business model.
Most importantly, the report believed the company is unlikely to be able to develop its unique product, which would eventually connect a mobile phone directly to a satellite. The company launched the initial product and will now start unrolling the satellite. Allegedly, many experts believe ASTS will not be able to unroll the product.
The stock has had a volatile two weeks. First, the shares jumped on the news that the company was able to send one of their satellites to space. However, the shares were then quick to lose all of the precious gains due to an earnings report which likely did not feed bulls with too many new arguments for the potential of ASTS. Despite that, many Twitter traders remain optimistic. Kerrisdale did not update their stance for now. The stock is down 38% since the initial report.
On the other side of the tracks, there were only a few meaningful movements against short-sellers. One of the most significant surges was seen in Miniso (MNSO), which jumped over 38% in the past week. Initially, it was Blue Orca who targeted this Chinese-based retail company due to allegations of undisclosed related-party transactions fraud.
Most importantly, the report believed the company is hiding the fact that they actually own many of the seemingly independent stores. Through Chinese filings, the activist uncovered that many stores are connected to key insiders of MNSO. The company supposedly disclosed part of this to Chinese media before it was listed in the US.
The allegations seem ignored for now. The stock is up 39% since the report, and the market seems to believe the numbers coming out of MNSO. This was also the reason for the significant jump this week. MNSO reported their earnings which then positively impacted the stock. Twitter traders are bullish, but there are not many threads discussing the stock price action.
---
Flurry of new campaigns, Muddy Waters takes the performance crown
This week we have seen activists perhaps compensate for the lack of new reports in the past two weeks. In order of magnitude, we wanted first to highlight Muddy Waters as the activist allegations dumped a stock by more than 50% in a single day. Muddy targeted DLocal (DLO), a payments company, due to allegations of fraudulent accounting.
Most importantly, the report believes the company has been...(full post available to clients)
---
(Stay on top of short selling developments - Join Breakout Point).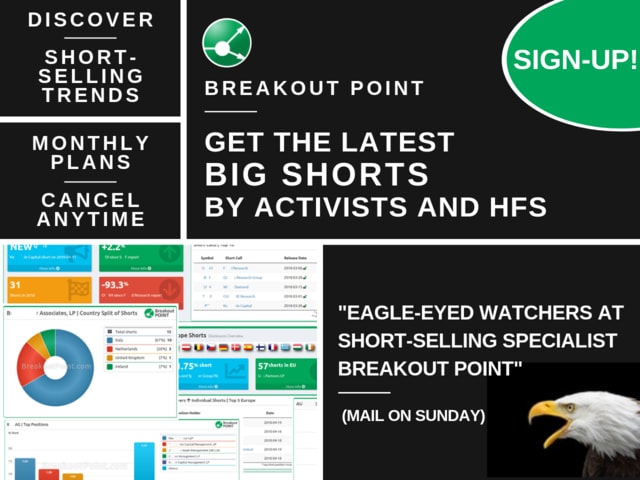 ---
FAQ | Q: Can I publish parts of the above data and analytics in an article? A: As long as you reference our work - yes, you can.
FAQ | Q: Could you provide more related data and analytics? A: Sure, contact us, and we'll try to help as soon as possible.
* Note: Presented data and analytics is as of available on 2022-11-19 UTC 10:00.
The services and any information provided by Breakout Point or on the Breakout Point website shall not be or construed to be any advice, guidance or recommendation to take, or not to take, any actions or decisions in relation to any investment, divestment or the purchase or sale of any assets, shares, participations or any securities of any kind. Any information obtained through Breakout Point and its services should never be used as a substitute for financial or other professional advice. Any decisions based on, or taken by use of, information obtained through Breakout Point and by its services are entirely at own risk.