This week we have registered one new campaign.
Viceroy hit Home REIT Plc, a £500m UK-based REIT which serves charities and other non-governmental organizations. As per the activist, the business is apparently falling apart as the tenants are allegedly unable to pay. The management also supposedly misled investors about their revenue concentration, as it seems the company has exposure to well over 15% to just one client.
Lastly, we are tracking the most recent stock price gyrations at several previous targets. We feature an alleged pump and dump scheme falling, a struggling electric aerial company and an energy storage company.
---
Bits and Pieces
Founder of Kynikos on Crypto, Tech and the Golden Age of Fraud (via Odd lots podcast)
Billionaire investor Ackman bets Hong Kong dollar peg can break (via Reuters)
UK's Ocado: Short seller expects nearly 40% collapse in share price (via CNBC)
Scorpion Capital puts sell-side on blast after recent news surrounding a recent biotech target. Shares are down 32% so far.
5/7 Why didn't Cowen publish the note in July when they visited the facility? The note says "while we did not go inside" the facility - we wonder if Twist didn't let them enter. Would Cowen go all the way to Oregon and not even ask to enter the facility? We are curious...

— Scorpion Capital (@ScorpionFund) November 21, 2022
Iceberg notches another win in the crypto space
Our April 2021 short $EQOS has filed for judicial management. It was a SPAC, in crypto, and established in Singapore. Three reasons for shorting. https://t.co/nbeYNDdu5Hpic.twitter.com/3JKi4jYtPv

— Iceberg Research (@IcebergResear) November 21, 2022
---

---
Big Movers
This week we saw several stocks that moved in the right direction for the short-sellers. Among the biggest movers was Global Tech Industries (GTII), which dropped about 44% in the past week. This holding company was targeted by White Diamond due to allegations of being a pump and dump scheme.
Most importantly, the report believed the company is unlikely to generate much shareholder value. Their prior track record involves many new business ventures, but none apparently worked out. The most recent venture of trying to sell art tokens is allegedly a mismanaged effort to try and again raise interest in the stock.
The campaign has almost played out as White Diamond saw shares plunge over 70% over a few months since the initial report. However, it now seems the stock is back in full force. In September, it rose from under $1 per share to over $8 per share on the back of news about positive business development. Despite this bullish trend, it seems there is a downside opportunity again as the stock is losing the bullish sentiment. It is now up over 48% since White Diamond wrote about it, but Twitter traders seem to be turning to short-squeeze talking points to find arguments as to why GTII should return to previous highs.
White Diamond achieved a win in Ironnet (IRNT), as shares plunged under $0.5, thus achieving price target set by this activist in February. Shares are down 92.6% since the original report of White Diamond.
Another stock that went down was Lilium NV (LILM). The stock fell about 8% and achieved a new all-time low. Initially, it was Iceberg Research who wrote about this electric aerial company due to allegations of poor product and dubious business model.
Most importantly, the report believed LILM's technology is not sufficient to produce a product which is going to fit the compliance created by aviation regulators. According to Iceberg, the company was not able to conduct many testing flights, and there are apparently serious questions about battery capabilities. The CEO did not have any aerospace experience prior to starting LILM.
It seems the thesis is playing out. The stock is down 60% now since Iceberg first mentioned the stock. The reason for the latest additional downside is news about a stock offering which is going to give LILM some cash, but the pricing of the offering pushed the shares lower. It will be interesting to see whether this will somehow prolong the downside opportunity or whether the cash won't be enough to save the stock.
On the other side of the tracks, there were only a few meaningful movements against short-sellers. One of the most significant surges was seen in Energy Vault Holdings (NRGV), which jumped over 30% in the past week. Initially, it was Culper Research who targeted this energy storage company due to allegations of dubious technology.
Most importantly, the report believed NRGV's economic and scientific claims about their main energy storage product ("Vault") are unrealistic and that their order book and financial projections are unreliable. As per Culper, a new generation of Vaults is not better than the failed previous generation, as it apparently introduced a new set of problems at the place of the previous.
The stock is down 25% and has been recently recouping some of the losses due to its earnings report, which was viewed as positive by the market. However, many bears on Twitter pointed out how the conference call and earnings just confirmed the downside opportunity as NRGV dropped some of its focus on the purportedly innovative technology. It seems that a short squeeze might have played a role in the recent surge.
---
Viceroy hits a UK-based REIT
This week we also saw the activist launch a new campaign. Viceroy targeted Home REIT (HOME), a $526m UK-based real estate company, due to allegations of poor business model and dubious corporate governance.
Most importantly, the report believes the company is going to have significant issues with...
---
(Stay on top of short selling developments - Join Breakout Point).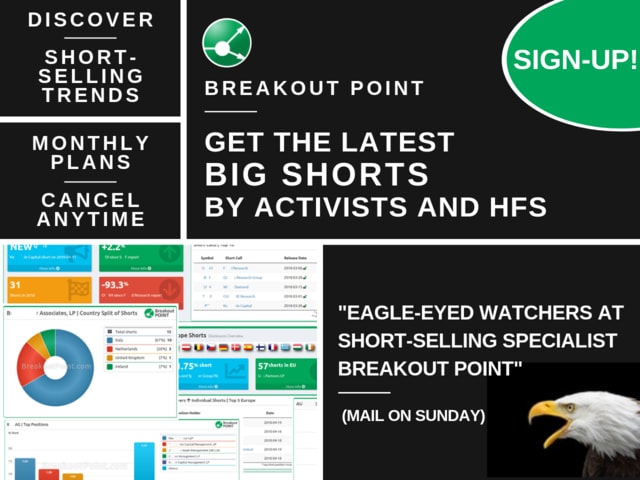 ---
FAQ | Q: Can I publish parts of the above data and analytics in an article? A: As long as you reference our work - yes, you can.
FAQ | Q: Could you provide more related data and analytics? A: Sure, contact us, and we'll try to help as soon as possible.
* Note: Presented data and analytics is as of available on 2022-11-26 UTC 09:00.
The services and any information provided by Breakout Point or on the Breakout Point website shall not be or construed to be any advice, guidance or recommendation to take, or not to take, any actions or decisions in relation to any investment, divestment or the purchase or sale of any assets, shares, participations or any securities of any kind. Any information obtained through Breakout Point and its services should never be used as a substitute for financial or other professional advice. Any decisions based on, or taken by use of, information obtained through Breakout Point and by its services are entirely at own risk.