In very interesting 2022 we saw 113 new major short and critical campaigns. This is significantly down from 135 in 2021.
On average, shares declined an amazing 31.3% following the release of the report, while in 33 cases decline was even higher than 50%. This compares well with a 19.4% decline of the S&P 500 index.
Among the most successful were Hindenburg Research, White Diamond and Kerrisdale Capital. We also note two newcomers who had a great first year.
Perhaps the most favourite stocks to target were EV-related businesses which have been decimated after a round of allegations mostly consisting of poor corporate governance.
We look at what 2023 could have in store for the future of activist short-selling space.
---
2022: Year of Big Shorts
How fortunes change. In 2021, shorts were vilified and abused by the market, investors and retailers. In 2022, some might say the situation is the same. Activist short-sellers still need to be used to take abuse from the Twitter crowd, companies they target and the volatility of the markets. However, there is one significant change.
The majority of the campaigns are now in the red. Stocks rarely go against short-sellers, and the market is listening and often capitulates to activist allegations.
In 2022, we registered and tracked 113 new major short campaigns. This is about 16% lower than the number of campaigns recorded in 2021. At the time of this report, on average, targeted stocks were down 31.3% following a short call/report. The ten best-performing from 2022 are: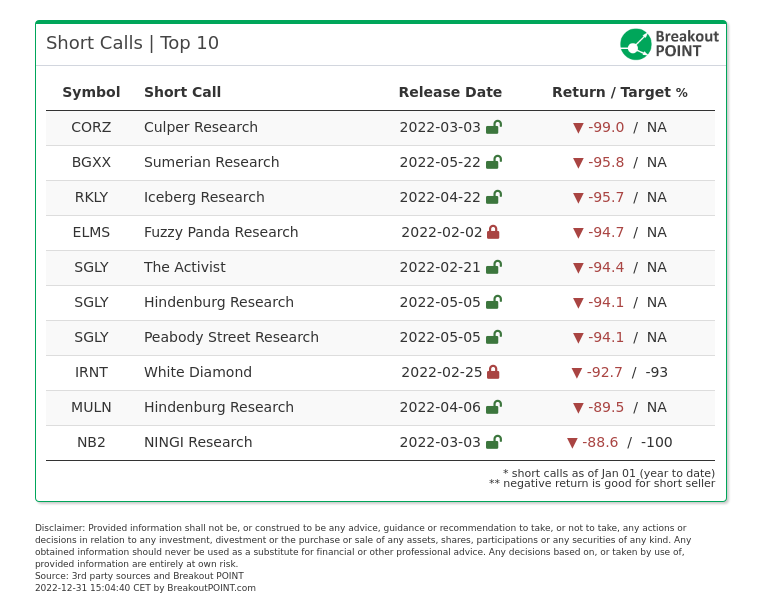 Culper and Sumerian took the first two places and also targeted the largest companies in this Top 10. Culper Research targeted Core Scientific (CORZ), originally a $2.4bn hosting and mining company, due to allegations of dubious transactions and overvaluation.
Most importantly, the report believed the company went public by buying a bitcoin mining entity that was formed just a few months before CORZ acquired it. As per Culper, the management apparently tried to paint a favourable picture for the price tag, but the entity was initially funded with $58m and then bought for $1.46bn in seven months. This is allegedly dubious and creates significant questions about the transaction.
Perhaps without wonder, CORZ collapsed and is now in Chapter 11 proceedings.
Bright Green (BGXX) was relatively similar to CORZ, and it did not even take a full report to explain why the stock is likely a dud. Sumerian targeted this originally $1.8bn cannabis pharmaceuticals company due to allegations of a dubious management team.
Most importantly, the tweet thread talked about how the current team does not seem to have much experience with the cannabis industry. According to Sumerian, the CFO was also previously employed by a blockchain company which had to pay an SEC fine over an unregistered ICO.
BGXX collapsed in a matter of one month and then just continued to slide lower as it priced new and new offerings.
Looking at the campaigns from a geographical perspective, U.S. companies were most often in the focus of short and critical reports. On average, following 77 U.S.-focused reports, corresponding shares declined 33%. However, these declines pale in comparison to -46% of 8 Canadian targets.
What is also interesting to note is the decline in the number of Chinese targets. Early 2021 saw the implosion of Archegos, fund that was involved with many Chinese names, such as GSX. This sparked a long-awaited drop in many Chinese names who held up during the pandemic. Since then, activists have held back on targeting what we call China Hustle 2.0, stocks which are listed either in the US or Hong Kong and feature classic red flags of confusing related-party transactions, dubious accounting or outright lies. It will be interesting to see how this trend will play out in 2023.
On the other hand, Europe remained a staple arena for several activists, especially Viceroy Research, Iceberg Research and NINGI Research. Viceroy is likely the most active player and targeted several stocks in 2022 with success. Samhällsbyggnadsbolaget i Norden (SBB) or Home Reit Plc (HOME) were Viceroy's biggest hits. Iceberg targeted smaller UK-based companies with great success as can be seen in the case of Rockley Photonics Holdings Limited (RKLY) featured in Top 10.
We also compiled the statistics about the auditors who were connected to companies featured in activist reports. EY takes the negative crown for 2022.
---

---
Activists in Our Focus
In 2022 we again saw plenty of activists with a prolific output. Hindenburg matched Spruce with ten campaigns each, and many others have released more than three campaigns in 2022 with great results.
We would like to highlight newcomers to the activist space who had a tremendous initial year. Peabody Street Research even took the crown with shorts such as Charge Enterprises (CRGE), an EV charging company or one of the top campaigns, Singularity Future Technology (SGLY), a crypto firm.
NINGI Research took on a similar variety of businesses. The activist targeted a crypto-related bank (PVBC), an European-listed bitcoin miner (NB2) and even targeted another EV business (SEV) which is now down by 82%. It will be interesting how NINGI's SINCH report will play out. The activist targeted a Swedish-based stock due to allegations of suspicious accounting. The stock initally plunged, but is now up 17%.
Grizzly Research also continued their great track record and notched wins with campaigns against Chinese Tesla (NIO), another EV story (GWH), a dubious mining company (EMO) and a questionable gaming company (PLTK).
---
Get most popular retail stocks. Track real time retail sentiment and retail popularity via our APIs and dashboards.

---
While most activists are generalists and report on various industries and businesses, some have been able to carve out a niche.
Fuzzy Panda is perhaps a good example of this. The activist has made its name by calling out dubious EV players. Unsurprisingly, 2022 had its fair share as well. Fuzzy saw a great win over at Electric Last Mile (ELMS) as featured in the Top 10 campaigns. ELMS featured the classic allegations of lying to investors, insider dealing and a poor business model which seemingly does not make much sense.
Fuzzy was followed by many other activists who started to focus on the leftover EV SPACs, lithium plays and other businesses that were connected to the EV craze. As mentioned, you can see several of these names already with NINGI, Peabody or Grizzly. Hindenburg also had its EV short in Mullen Automotive (MULN) which ended up in Top 10 as well.
Kerrisdale Capital continued to target retail favourites. The activist went out against the likes of Trump Twitter (DWAC) or public SpaceX (ASTS). Both stocks were heavily featured on Reddit and continue to have one of the largest shareholder groups despite the severe declines.
White Diamond also continued to expose companies in the small-cap arena. Their best hit Ironnet (IRNT) is a great example with Focus Universal (FCUV) being a similar story which is down 50% so far. The second-best hit of White Diamond was Veru (VERU), which is a blast from the past in that the activist correctly analyzed that the company is unlikely to have much success with this COVID-19 asset.
Muddy Waters added another year to their sucesfull track record, with ESG shenanigans being in their special focus.
Lastly, Spruce Point continues to cover large-cap companies for various accounting and corporate governance reasons. While these allegations are slightly different from the usual campaigns we see, the earnings seasons were a good period for Spruce. Only two stocks are still up since Spruce wrote about them, and four campaigns already hit the intended downside target. It seems the market is back to reevaluating stock stories on an earnings basis.
Outside of the trends and activists focusing on similar topics, we would also want to highlight Hindenburg's Twitter saga. First, the activist went short, then flipped to becoming long and won in both trades.
Hindenburg closes $TWTR short

short announced ~$50
short closure announced ~$37 https://t.co/lsPvw3feL9

— Breakout Point (@BreakoutPoint) May 17, 2022
---
What to expect in 2023?
With Tesla (TSLA) seeing significant declines and seemingly every EV SPAC already covered by activists, one has to wonder what is going to be the next trend activists will focus on. Jim Chanos believes ESG will continue to be a fertile hunting ground.
Chanos on thematic areas for shorts:

- going fwd, expects much more focus on ESG area
- short handful of ESG stocks, mentions $RUN among own shorts

(via Space by @jennablan)

— Breakout Point (@BreakoutPoint) December 8, 2022
He also mentioned an example of a campaign which is likely to see significant developments this year. Initially, it was Muddy Waters who targeted Sunrun (RUN), a solar company, due to allegations of a dubious business model.
Most importantly, the report believed the company could face a dire need for equity issuance to stay afloat. First, RUN is allegedly overestimating the value of its current assets due to the use of questionable accounting. Muddy adjusts 'Net Earnings Assets' down as much as 90%. Second, as per the activist, the company is apparently misleading IRS about its Power Purchase agreements. Third, according to Muddy Waters, RUN's ABS securitization could expose the holders to bankruptcy of the company due to a lack of reserve.
The thesis has not seen much success. The stock was up for most of the time and only now is down 15% due to what seems like broader market moves. Muddy was joined by several Twitter accounts that cover the situation, and the activists questioned RUN's accounting and corporate governance. Despite this, the market has been slow to acknowledge the risks.
In total, we see roughly 42 campaigns that are currently up more than -20% since the initial report. Thus there seems to be still a number of campaigns which are likely to start moving this year. Hindenburg has two stocks in this range. Perhaps the more intriguing case is Welltower (WELL), a $31bn REIT which was targeted due to allegations of dubious third-party transactions.
Most importantly, the report believed the company has obfuscated the recent deal which supposedly increased the health of WELL's distressed assets. According to Hindenburg, the facilities in question had to be offloaded as their tenant was struggling financially. They were apparently offloaded to a dubious entity which was formed only six months before the deal. Activist also added that the person associated with the entity allegedly does not seem to have much experience with the management of such facilities.
WELL is currently down only 4%, while the allegations point out seemingly strong allegations, which came out in early December.
There are also plenty of lithium-related stocks in the range of -20% or 'better', and thus some of the trends from 2022 are likely to play a role still this year. One example for all could be J Capital's campaign against Lake Resources (LAKE) which has been ongoing for some time. The stock is still up, but now just by 11%, as J Capital continues to believe the downside is present.
Outside of these campaigns and ESG, we are likely to continue seeing campaigns from many corners of the market. In the end, we are still living in the golden age of fraud. Luckily, the markets have people like Hindenburg who will continue to do their best to combat this.
My 2023 New Years professional resolution is to work with our @HindenburgRes team to expose some of the biggest frauds and financial charlatans in the world.

I am very confident we will achieve this goal, starting in Q1.

— Nate Anderson (@ClarityToast) January 2, 2023
Oh, and if you are wondering how the SEC investigation into activist short-sellers is going, you can see Muddy suing the SEC for an alleged FOIA breach. SEC seems to be reluctant to share communication between the agency and the people who potentially started the push for the investigation.
---
Don't miss latest activist short selling reports and insights - Join Breakout Point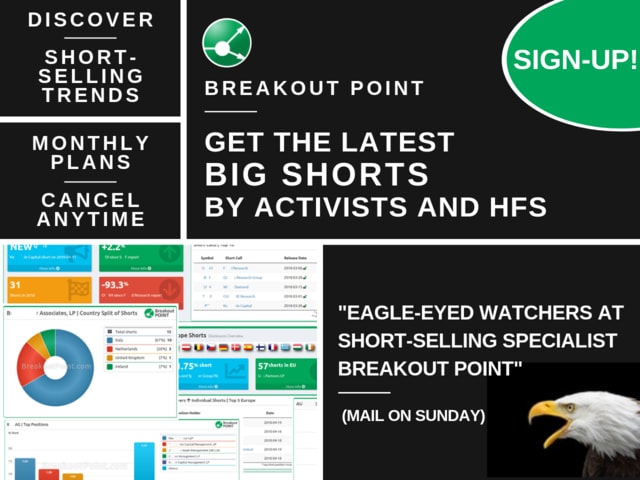 ---
FAQ | Q: Can I publish parts of above data and analytics in an article? A: As long as you reference our work in your article - yes, you can.
FAQ | Q: Could you provide more related data and analytics? A: Sure, join Breakout Point and start benefiting from our services.
* Note: Presented data and analytics is as of available on 2022-12-31, UTC 12:00.
The services and any information provided by Breakout Point or on the Breakout Point website shall not be, or construed to be any advice, guidance or recommendation to take, or not to take, any actions or decisions in relation to any investment, divestment or the purchase or sale of any assets, shares, participations or any securities of any kind. Any information obtained through Breakout Point and its services should never be used as a substitute for financial or other professional advice. Any decisions based on, or taken by use of, information obtained through Breakout Point and by its services are entirely at own risk.