This week we have registered one new major short call.
Iceberg targeted an alleged pump scheme featuring a data analytics company which used supposedly misleading PR to push up the share price. The stock went down more than 20% following the report.
We also cover a number of updates on ongoing campaigns. We see Blue Orca's thesis playing out in a cannabis REIT, NINGI's struggles with a crypto-related bank and what seems to be one of the last developments in the Viceroy-Adler saga.
Lastly, we are tracking the most recent stock price gyrations at several previous targets. We feature a failed EV company falling further, Trump SPAC and an EV scooter company which is rebounding.
---
Save time and ask us for independent short thesis verification. Get our custom support. Contact Breakout Point!
---
Bits and Pieces
Chanos sharing new criticism of Tesla (via Benzinga)
Week of "naked shorts" fighters. We have seen several micro- and nano-cap companies starting or considering such and similar actions:
Today we launch the Illegal Trading Task Force, led by Timothy Murphy, Genius Group Director & Former Deputy Director of the FBI. This is one of a series of actions the $GNS Board voted on to fight #NakedShorts. More steps in the comments below: pic.twitter.com/g5eamq2HiZ

— Roger James Hamilton (@rogerhamilton) January 19, 2023
Crypto troubles continue as Dirty Bubble Media released a further report about Signature Bank (SBNY). The stock is unchanged since the activist first wrote about the alleged problems.
NEW: "A WALLED GARDEN FULL OF SNAKES: THE SIGNET CLIENT LIST REVEALED."

We have obtained a 2021 copy of Signature Bank's Signet clients. We have some questions… https://t.co/DcE78fi1k8

— DIRTY BUBBLE MEDIA: THE WALLED GARDEN (@MikeBurgersburg) January 18, 2023
---

---
Big Movers
This week we have seen an improvement for activists. One of the biggest decliners was Mullen Automotive (MULN) which dropped 25% in the past week. MULN is a relatively famous short of Hindenburg Research who targeted the EV company due to the classic allegations of a pump and dump scheme.
Most importantly, the report believed MULN's hyped solid-state battery tech is unlikely to generate much value. Recent PR which talked about the performance was apparently a rehashed news from 2020. The testing partner also allege MULN misrepresented the results. MULN also apparently does not have the needed EPA certificate to even produce its own EV vans.
The thesis has played out, and Hindenburg has been proven right. However, MULN was part of the meme stocks, which rebounded in early January. Now it seems it was what some call a dead cat bounce. The short-squeeze crowd has left, and there is not much to support the story. Hindenburg did not comment on the developments.
Another stock that has seen a large decline recently was Digital World Acqui. (DWAC). The infamous Trump SPAC has dropped 12% in the past five days. DWAC was initially targeted by Kerrisdale Capital in April of last year due to allegations of regulatory risk and an unsustainable business model.
Most importantly, the report believed SEC will force DWAC to drop its merger with a company linked to Trump. It is apparently increasingly visible that DWAC's will not have enough arguments to defend their due diligence process. This is then supposedly going to create problems for them to file a proper S-4, a form which they still have not shown. DWAC already acknowledged they are under SEC probe.
While it seems the story is still ongoing, DWAC is down 68% since the report and is now increasingly closer to Kerrisdale's initial downside target of about 80%. What made DWAC drop further this week was likely news about Trump trying to get Facebook to reinstate his account. This might mean the social platform DWAC is connected to might not be as popular. Kerrisdale did not comment on the latest news. The Reddit crowd around the stock continues to be active and there are several threads who believe the tables will eventually turn.
On the other side of the tracks, we have seen relatively few stocks go against the short-sellers. The most significant move was by Gogoro (GGR), which is up almost 14% in the past five days. This EV scooter company was initially targeted by Bonitas Research due to allegations of an unsustainable business model.
Most importantly, the report believed the company is unlikely to be able to sustain its growth which is key for its survival. The activist tracked public data which is showcasing that GGR's product has 20% fewer registrations than in the previous year. The company is apparently facing the second-worst quarterly sales number since 2018.
It seems the thesis has had a good start, but now the market is perhaps discounting the news in the face of news about a new GGR partnership which might help the growth. That being said, GGR is still down about 22% since the initial report. Twitter traders are relatively bullish and do not seem to be bothered by Bonitas' report.
---
Plenty of Updates
This week it was only Iceberg Research releasing a new campaign. The activist wrote about BigBearAi (BBAI), a $300m data analytics company, due to allegations of overvaluation and dubious business model.
Most importantly, the tweet thread believes the company's recent announcement is...
---
(Stay on top of short selling developments - Join Breakout Point).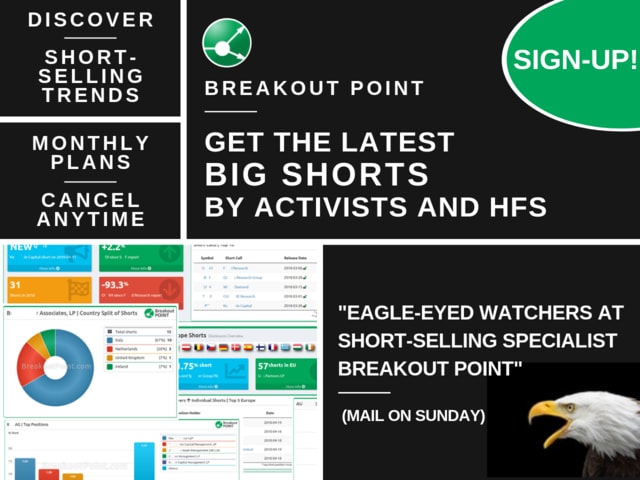 ---
FAQ | Q: Can I publish parts of the above data and analytics in an article? A: As long as you reference our work - yes, you can.
FAQ | Q: Could you provide more related data and analytics? A: Sure, contact us, and we'll try to help as soon as possible.
* Note: Presented data and analytics is as of available on 2023-01-21 UTC 09:00.
The services and any information provided by Breakout Point or on the Breakout Point website shall not be or construed to be any advice, guidance or recommendation to take, or not to take, any actions or decisions in relation to any investment, divestment or the purchase or sale of any assets, shares, participations or any securities of any kind. Any information obtained through Breakout Point and its services should never be used as a substitute for financial or other professional advice. Any decisions based on, or taken by use of, information obtained through Breakout Point and by its services are entirely at own risk.