This week we have registered four new major short calls.
The big shorts are back in action. Hindenburg released a campaign against what they believe to be one of the largest corporate frauds in history. The target is a group of Indian companies which apparently used stock manipulation and fraudulent accounting to build a large empire.
Viceroy also came out against a relatively large healthcare REIT, alleging dubious transactions which inflate the value of the portfolio. The company is apparently exposed to huge credit risk due to this. JCapital also released a substantial report. They targeted a Chinese company due to classic allegations of the China Hustle 2.0. We have not seen such allegations for some time now. Culper was the fourth activist to release a report against a dubious manufacturing company.
Lastly, we are tracking the most recent stock price gyrations at several previous targets. We feature Culper's target, a dubious battery company and a failing EV charging business.
---
Save time and ask us for independent short thesis verification. Get our custom support. Contact Breakout Point!
---
Bits and Pieces
$RKLY, our April 2022 short, filed for chapter 11. https://t.co/5SjAjCfdB6pic.twitter.com/u1Cao8O3YM

— Iceberg Research (@IcebergResear) January 24, 2023
---

---
Big Movers
This week we saw a balance between losers and gainers. On the positive side for short-sellers, one of the biggest decliners was Freyr Battery (FREY) which dropped about 14%. Initially, it was Bonitas who targeted this battery company due to allegations of undisclosed related party transactions.
Most importantly, the report believed the company did not disclose that the land upon which they are building their factory is actually owned by FREY's insiders. The activist unearthed information about potential cross-ownership, which supposedly raise red flags. Perhaps most importantly, Bonitas questions why FREY did not end up buying the land and instead opted for a lease agreement.
It seems the market is warming up to the thesis. There are no news that would directly support the allegations. However, the sell-side is happy to downgrade stock due to what they see as execution risk. The shares are now down 20% since the initial report. The activist did not release any updates. Twitter seems to be relatively balanced as there are several bears advocating against buying shares.
Another stock that has seen a large decline recently was Charge Enterprises (CRGE) which declined by about 6% in the past week. This EV charging company is a short of Peabody who targeted CRGE due to allegations of dubious management and questionable acquisitions.
Most importantly, the report believed the company's insiders have a checkered past. As per the activist, the CEO of CRGE's predecessor was apparently caught on record trying to bribe an FBI agent. The founder of CRGE was allegedly involved in pump and dump schemes and plead guilty to money laundering. Before turning to EV charging, they also supposedly misled investors about their previous business ventures.
The thesis is playing out in full swing. Coupled with the recent decline, the stock is now down over 72% since the initial report. The market seems to be giving up on the hope that CRGE might somehow be one of the EV-related stocks that could create a significant amount of shareholder value. Even news about new partnerships of CRGE does not seem to help much. Peabody initially saw a 95% downside opportunity.
On the other side of the tracks, we have seen several stocks go against the short-sellers. The most significant move was by Xometry (XMTR), which went up by almost 18% in the past five days. This is despite Culper releasing a report on the company early this week. Culper targeted this $1.4bn manufacturing company due to allegations of dubious business model and misrepresentation.
Most importantly, the report believes the company has misled investors about core aspects of their business. Xometry is touting a recurring revenue model, but Culper believes this is false, and the business actually has a large churn problem. On top of this, the company's claim about their ability to earn over their advertising spend is apparently bogus as well. Culper delivers its own model of how to calculate a seemingly worrying picture about the cash burn.
4) $XMTR claims to generate recurring revenues, but our analysis of buried Company disclosures suggest 94% effective Buyer churn in 2020. XMTR seemingly tried to hide this, until compelled to do so via SEC comment letters. XMTR has again stopped disclosing these figures. pic.twitter.com/Pjvr0A7lkZ

— Culper (@CulperResearch) January 24, 2023
Moreover, the company has allegedly used an acquisition in 2021 to hide these trends. Xometry apparently touts its ability to have operating leverage, but Culper believes this is mainly financial engineering.
6) $XMTR claims to show operating leverage, but we estimate LTM marketplace losses ballooned from $44M in Q3 21 to $85M in Q3 22. We view XMTR's Thomas acquisition as largely a financial engineering gimmick disguising these losses. The Company lapped this deal in Q4 22... pic.twitter.com/99gtHWAGWM

— Culper (@CulperResearch) January 24, 2023
Due to all this, the short-seller sees a significant downside. The market is likely to eventually join insiders in selling the stock as further expires are going to pass soon. While Twitter and Reddit were quiet and did not really push back against the report, the stock seemed to have shrugged off the allegations. This might be due to the somewhat fundamental nature of the allegations, which might become visible in later quarters. The stock is up 13% since the report.
---
Big Shorts are back
This week also saw three other new campaigns which went out with significant allegations against each of the companies. The most interest was definitely raised by Hindenburg. Before publishing the campaign, they stated that they are going to target what they believe to be one of the biggest corporate frauds in history. Fintwit started to guess, and many users got excited.
The report maybe taken some by surprise as Hindenburg did indeed target a large conglomerate, but maybe one that US investors are not aware of. Hindenburg targeted Adani Group, an Indian holding company, due to allegations of fraud and stock manipulation.
Most importantly, the report believes the company and its insiders have conspired to create shell companies which allowed the Adani family and the Adani group to receive a significant amount of cash while maintaining the seemingly healthy financials of the listed companies. This helped to fuel the stock price, which was then used by the insiders to pledge their shares and raise debt.
Our research, which included downloading and cataloguing the entire Mauritius corporate registry, has uncovered that Vinod Adani, through several close associates, manages a vast labyrinth of offshore shells. (14/x)

— Hindenburg Research (@HindenburgRes) January 25, 2023
Moreover, the insiders have been undergoing investigations for tax fraud among other things and funds that seem to hold only shares of Adani-related securities are under active investigation by the Indian regulator.
The Adani Group has previously been the focus of 4 major government fraud investigations which have alleged money laundering, theft of taxpayer funds and corruption, totaling an estimated U.S. $17 billion. (8/x) pic.twitter.com/4zxukHr4Mt

— Hindenburg Research (@HindenburgRes) January 25, 2023
Due to all this, the short-seller sees a significant downside. The market is likely to eventually realize that Adani Group operates an alleged large, flagrant fraud in broad light as a result of fear of reprisal.
The Vinod-Adani shells seem to serve several functions, including (1) stock parking / manipulation (2) and laundering money through Adani's private companies onto the listed companies' balance sheets in order to maintain the appearance of financial health and solvency. (18/x) pic.twitter.com/wdfEGZ7E27

— Hindenburg Research (@HindenburgRes) January 25, 2023
The report has been taken seriously, and the shares of each of the companies started to already decline by more than 15%. Bill Ackman came out and supported Hindenburg by stating that he believes the report is well-researched and credible. He also offered his views on the response by Adani, which came shortly after the Hindenburg report.
Adani's response to @HindenburgRes is the same as @Herbalife's response to our original 350-page presentation. Herbalife remains a pyramid scheme. I found the Hindenburg report highly credible and extremely well researched. @AdaniOnline response speaks volumes. Caveat emptor. https://t.co/og6DLbPzp5

— Bill Ackman (@BillAckman) January 27, 2023
The activists themselves have responded and welcomed a perspective of a lawsuit in the US.
Our response to Adani: pic.twitter.com/6NcFKR8gEL

— Hindenburg Research (@HindenburgRes) January 26, 2023
Given the interest by all market participants and the press, it is unlikely that the interest in the campaign will die down soon.
Outside of Hindenburg, we would also like to highlight the new short of Viceroy who targeted...
---
(Stay on top of short selling developments - Join Breakout Point).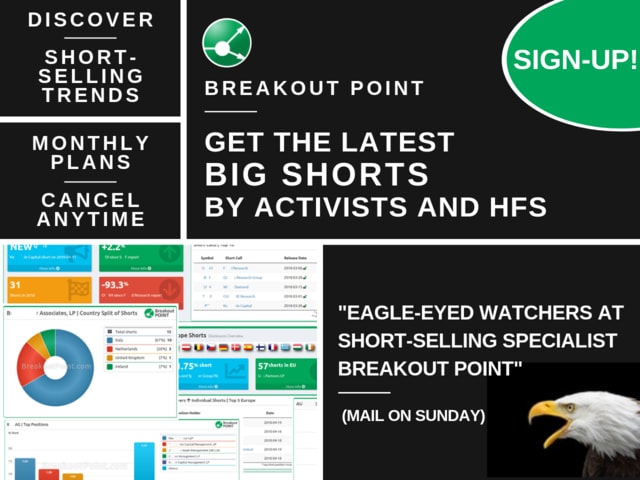 ---
FAQ | Q: Can I publish parts of the above data and analytics in an article? A: As long as you reference our work - yes, you can.
FAQ | Q: Could you provide more related data and analytics? A: Sure, contact us, and we'll try to help as soon as possible.
* Note: Presented data and analytics is as of available on 2023-01-28 UTC 09:00.
The services and any information provided by Breakout Point or on the Breakout Point website shall not be or construed to be any advice, guidance or recommendation to take, or not to take, any actions or decisions in relation to any investment, divestment or the purchase or sale of any assets, shares, participations or any securities of any kind. Any information obtained through Breakout Point and its services should never be used as a substitute for financial or other professional advice. Any decisions based on, or taken by use of, information obtained through Breakout Point and by its services are entirely at own risk.