This week we have registered two new major short calls.
Wolfpack released its first report this year. Interestingly, they focused on B.Riley, an investment bank, which apparently caught itself between a rock and a hard place after buying up speculative assets and extending credit to crypto-related companies, which are now in deep trouble.
We also saw Spruce Point come out with a report against a fertility benefits company due to accounting concerns and dubious corporate governance. The stock was already targeted by Jehoshaphat for similar reasons in December of last year.
Lastly, we are tracking the most recent stock price gyrations at several previous targets. We feature an alleged pump and dump on the way down, a defiant solar company and the Indian holding company which got everyone talking.
---
Save time and ask us for independent short thesis verification. Get our custom support. Contact Breakout Point!
---
Bits and Pieces
HFs rush to unwind bets on falling markets as stocks surge (via FT)
VERU down 66% since Culper first targeted the company, but activist sees further downside.
(2/2) Meanwhile, $VERU's top 3 execs earned $12.6M in 2022 alone. For what exactly, we're not sure. Sabizabulin for COVID-19 remains DOA. We remain short. pic.twitter.com/gx5JAFOx4u

— Culper (@CulperResearch) February 9, 2023
---

---
Big Movers
This week we saw a relative relief from the short-squeeze narrative. On the positive side for short-sellers, one of the biggest decliners was Global Tech Industries (GTII) which we covered just last week when it went up over 80%. Now, GTII dropped 26% in the past five days. White Diamond targeted this holding company due to allegations of being a pump and dump scheme.
Most importantly, the report believed the company is unlikely to generate much shareholder value. Their prior track record involves many new business ventures, but none apparently worked out. The most recent venture of trying to sell art tokens is allegedly a mismanaged effort to try and again raise interest in the stock.
It seems the tables have turned this week as retailers have somewhat dropped their focus on short-squeeze stocks after the BBBY chaos. GTII dropped 33% alone just on Thursday. However, it seems that some Twitter traders are relentless and are not going let go for their favourite narrative about naked shorts.
Another stock that has seen a relatively large decline recently was Sunrun (RUN) which dropped by 14%. This solar company was targeted by Muddy Waters in July of last year due to allegations of a dubious business model.
Most importantly, the report believed the company could face a dire need for equity issuance to stay afloat. First, RUN is allegedly overestimating the value of its current assets due to the use of questionable accounting. Muddy adjusts 'Net Earnings Assets' down as much as 90%. Second, the company is apparently misleading IRS about its Power Purchase agreements. Third, RUN's ABS securitization could expose the holders to the bankruptcy of the company due to a lack of reserve.
RUN is somewhat of a battleground stock for Muddy Waters. The stock refused to budge even as the activist talked about how the earnings are not looking better and the debt situation is challenging, to say the least. However, it seems that the market is now starting to appreciate some of the allegations. Perhaps due to the overall nature of the current market. The stock is now down 19% since the initial report. The activist did not update their position, but others have talked about RUN's debt as an eventual catalyst for the downside.
On the other side of the tracks, we have seen several movements against the activist. Perhaps the most notable move was by Adani Enterprises, which went up 16%. Adani was recently targeted by Hindenburg due to allegations of fraud and stock manipulation.
Most importantly, the report believed the company and its insiders have conspired to create shell companies which allowed the Adani family and the Adani group to receive a significant amount of cash while maintaining the seemingly healthy financials of the listed companies. This helped to fuel the stock price, which was then used by the insiders to pledge their shares and raise debt.
The situation has been calming down as some of the stocks from the group started to rebound after drops of over 50%. However, the activist is seeing media corroborating their evidence which likely means the volatility is far from done.
Bloomberg out with a column on Adani stock parking & money laundering allegations, including details on New Leaina, a Cyprus-based fund featured in our @HindenburgRes report that holds almost nothing but Adani stock.https://t.co/hR3jOGxRoEpic.twitter.com/W51Ng73icd

— Nate Anderson (@ClarityToast) February 10, 2023
Hindenburg also commented on the alleged smear campaign by people linked to Adani and how the company seemingly does not have much else to say.
The Wire out with an article debunking lies about @HindenburgRes by senior BJP officials, including:

- We are banned by FINRA (never)
- Had bank accounts seized (no)
- Can't publish on NYSE-listed co's (this isn't a thing)
- Are under investigation (no)https://t.co/TXtC3qZbXL

— Nate Anderson (@ClarityToast) February 9, 2023
---
Investment bank in trouble and healthcare REIT implicated in a criminal investigation?
This week we have seen the first campaign of 2023 by Wolfpack Research. The activist targeted B.Riley (RILY), a $1.2bn investment bank, due to allegations of a poor business model and weak balance sheet. It seems Wolfpack believes RILY is likely another victim of...
---
(Stay on top of short selling developments - Join Breakout Point).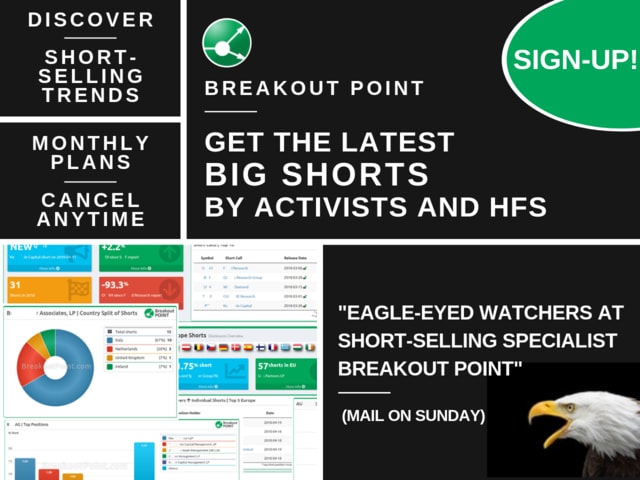 ---
FAQ | Q: Can I publish parts of the above data and analytics in an article? A: As long as you reference our work - yes, you can.
FAQ | Q: Could you provide more related data and analytics? A: Sure, contact us, and we'll try to help as soon as possible.
* Note: Presented data and analytics is as of available on 2023-02-12 UTC 09:00.
The services and any information provided by Breakout Point or on the Breakout Point website shall not be or construed to be any advice, guidance or recommendation to take, or not to take, any actions or decisions in relation to any investment, divestment or the purchase or sale of any assets, shares, participations or any securities of any kind. Any information obtained through Breakout Point and its services should never be used as a substitute for financial or other professional advice. Any decisions based on, or taken by use of, information obtained through Breakout Point and by its services are entirely at own risk.