In, for short-sellers, challenging H1-2023 we saw 63 new major short and critical campaigns. This is in-line with 2022.
While it seems that there is no lack of targets, the returns have been somewhat mixed as opposed to last year when the late downturn made life easier for shorts. We have seen only one zero; the second-best campaign is down 'just' 47%.
Among the most successful were Hindenburg Research, with four shorts that not only delivered returns but also raised plenty of questions surrounding the companies. Be it the connections of an Indian conglomerate to Indian politics or Icahn Enterprises' governance over his investment entity in the US.
We have seen plenty of industries targeted in the past six months suggesting strong opportunities across the market. There were several banks targeted. We also saw continued EV and lithium focus as well as a number of campaigns targeting retail favourites such as C3.ai or CVNA.
We look at what H2 2023 could have in store for the future of activist short-selling space. We believe the environment is ripe with many opportunities as the activists seem to have only started to clean-up some of the previous industries caught in the stock market hype.
---
H1-2023: Lesson in patience?
The year started with a bang as the banking crisis unfolded in front of our eyes, and the markets were only beginning to rebound from the losses in the previous year. Hindenburg released its first report, which shook an entire country, and it seemed like shorts will continue to ride the wave from 2022. In this report, we look at how it turned out.
In H1-2023, we registered and tracked 63 new major short campaigns. This is about 10% higher than pro-rated number of campaigns in 2022. At the time of this report, on average, targeted stocks were actually up 2% following a short call/report. In spite of that we have seen many successful short calls. The ten best-performing from H1-2023 are: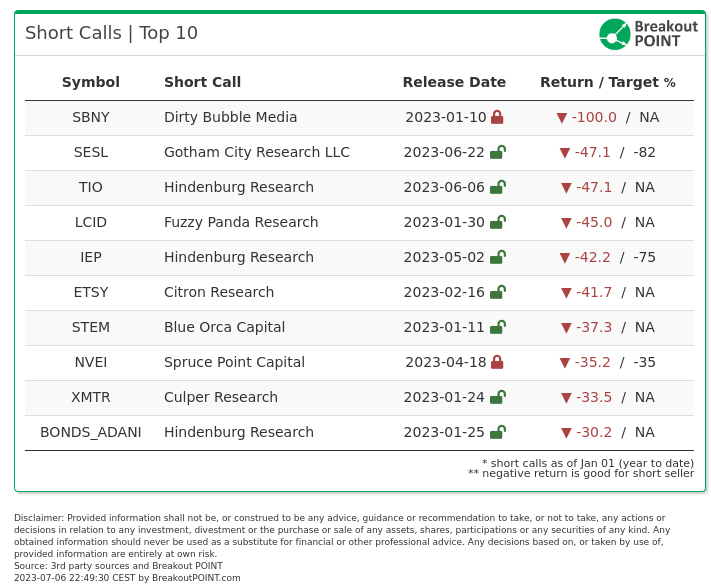 The previously mentioned crusade of Hindenburg against Adani Group made it to TOP 10. Although, the shares of the conglomerate rebounded somewhat, as the flagship stock was down over 60% at one point. The best-performing short was publicly written up by Dirty Bubble Media, but SBNY was a target of many other activists (Marc Cohodes and others) who used Twitter to raise significant red flags about the operations, which were eventually taken over by the government.
Gotham City returned after a five-year break and scored a win by targeting a European-based business due to allegations of potential round-tripping using a Chinese partner. Gotham's past track record is spotless and includes famous campaigns such as Gowex, another European company, which turned out to be a zero.
Citron is in somewhat of a similar position as the activist seems to be still careful with putting out new research. That being said, they recorded a win in ETSY. The campaign raised risks of regulatory action. This did not happen yet, but the stock ended up dropping due to overall concerns about demand for the platform.
While we saw plenty of successful campaigns, only 20, or a bit below a third, are currently down more than 10%. The rest is either flat or up since the initial reports. Therefore, we noted several challenges in the past six months. Perhaps the best showcase is Kerrisdale Capital.
The activist does not shy away from publishing on popular retail stocks, which are in the middle of the hype period. This is perhaps why they also have to put up with wild swings, which we saw due to the market rebounding. So far, the activist notched many wins with this focus (eg DWAC, CEI, ASTS, SPCE, MMAT, PLUG come to mind). However, Carvana, the latest target, is up over 50% as many traders bet on a prolonged short-squeeze. Kerrisdale believes the company is likely to fail completely ultimately. Kerrisdale's second campaign is also up as they focused on the kingpin of the AI hype, C3.ai (AI). It is worth noting, however, that AI shares initially fell significantly in both cases when Kerrisdale published her research.
We also saw another challenge in the biotech sector. Muddy Waters released their only campaign of the year so far and was hit with an acquisition which took out the stock at a roughly 67% premium to the share price at the release of the report. Prompting some highlighting the unique risks in the biotech sector.
Looking at the campaigns from a geographical perspective, U.S. companies, by far, were most often in the focus of short and critical reports. On average, following 49 U.S.-focused reports, corresponding shares are actually higher 5.5%. However, regional success has been achieved in Canada and China.
The reports kept coming out of the usual places, although we do note the lack of Chinese targets. There were only two US-listed and one HK-listed stock targeted in the past six months. Viceroy came out with a curious campaign focused on a Japanese-listed entity connected to China, but it seems China Hustle 2.0 might be over, and the market is waiting for the third instalment.
We also compiled the statistics about the auditors who were connected to companies featured in activist reports. Deloitte has been, by far, the most frequent this time. Plus ça change, as some would say.
---

---
Activists in Our Focus
In H1-2023 we again saw plenty of activists with a prolific output. Top performing activists in H1-2023 with at least two campaigns are:
Obviously, we have to mention Hindenburg mainly due to the impact the campaigns had on the world outside the stock itself. Adani sparked a national debate in India about all the different connections to the government, and the discussion is unlikely to die down soon. The campaign on Icahn Enterprises (IEP) was welcomed by Ackman, who piled on and shared his own thoughts on the investment company apparently held up by unsustainable dividends. At the end of 2022, Hindenburg was not holding back and mentioned that they were working on some of the biggest campaigns. They were certainly not wrong, and we can't wait to see what they will bring next as they continue to be the heavy hitters in the activist space.
Perhaps the second most significant impact outside of the target was by Viceroy, who followed up their successful 2022 campaigns by releasing a report about US-based REITs with dubious corporate governance. Later, they also targeted a Japanese-listed solar business that is apparently trying to avoid US regulations. As per usual, their combative style yielded strong results with both targets down more than 20%. However, it seems the activist also caught the attention of various other interest groups, which somehow includes a Labour MP.
Other than that, Fuzzy Panda continued to improve its track record with timely shorts of Lucid Group and Xponential Fitness. The first stock was a classic EV short due to a false rumour, and the second campaign seemed like one from the olden days of classic pump-and-dump schemes. The report included allegations of the dubious track record of the CEO with mentions of Bangkok-based boiler rooms, among other things.
---
Get most popular retail stocks. Track real time retail sentiment and retail popularity via our APIs and dashboards.

---
What to expect in H2-2023?
We do not see the ripe environment for activist short-selling changing anytime soon. The AI hype is setting in, and we are already seeing high interest in names with what seem to be relatively obvious red flags. The recent campaigns targeting Applied Digital (APLD) show this trend well. The name has been written up three times already, perhaps most notably by Wolfpack Research, who scolded the company for allegedly being a stock promotion scheme. Many other activists jumped on the research wagon and came to Twitter to share their own angles on the story. This amount of activity suggests many short-sellers carefully watched the volatile trading in the past few weeks and months in the AI space.
At the same time, short-sellers have been cleaning up industries which were previously caught in different hype trends. For example, we are still seeing new reports aimed at lithium-connected businesses. So far, we count roughly 11 campaigns which pointed out various red flags with companies trying to score a win in that space. The EV industry is not far off from this as activists like Fuzzy Panda also continue to find new names worth pointing out. This might continue to be the case as there are likely stocks which survived the first wave of troubles but might find it increasingly hard to get financing in this interest-rate environment.
Talking about macro considerations, we did notice some activists believe banks could still be exposed, and thus more campaigns might come out of that sector. We note the two recent campaigns, one aimed at a top 5 US bank (USB campaign by HoldCo) and the other aimed at a European bank (BAWG short by Petrus). It will also be interesting to see how Wolfpack's B.Riley campaign plays out. The stock is now up about 1% since the initial report, as the stock seems to defy some of the allegations.
What also changed for the better for activist short-sellers is the retail environment. The opposition to short-sellers is never going to go away, but the intensity changed. When Kerrisdale or others target a retail favourite, the pushback is not as visceral. There are also people trying to hunt the next short-squeeze opportunity, but the number is lower. We did notice the surge of MVIS recently, but it seems the stocks that did go against the shorts did not attract such a religious crowd as when GME or AMC was all the rage.
As for campaigns which we will be watching in the next months, we are certainly interested to see how NINGI's campaign against Walmart and its partner Symbotic will go. The activist targeted this mega-cap due to allegations of a dubious contract with Symbotic which is likely to cost them a significant amount of money and issues as Symbotic is allegedly unable to carry out the project properly. NINGI sees Symbotic eventually out of business and Walmart facing severe downside.
In any case, whatever comes in the next six months, we do not see any decrease in activity. The markets continue to signal that fraud, fads, and failures will never go away. Especially not when the below tweets were released just recently.
John Kapoor, the founder and CEO of fentanyl peddler Insys Therapeutics, was released from prison on 6/15 to home confinement at his Az. mountaintop estate.

Her served 22 mo. of a 66 mo. sentence.

Killing people really isn't THAT big of a deal if you have good lawyers

— The Foundation for Financial Journalism (@FFJ_report) June 26, 2023
Oh my god I'm going to die pic.twitter.com/KzvjuirBwt

— @annmlipton@esq.social (@AnnMLipton) April 24, 2023
---
Don't miss latest activist short selling reports and insights - Join Breakout Point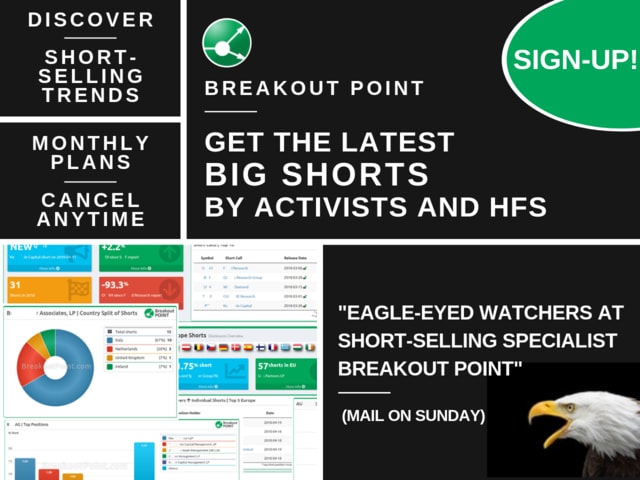 ---
FAQ | Q: Can I publish parts of above data and analytics in an article? A: As long as you reference our work in your article - yes, you can.
FAQ | Q: Could you provide more related data and analytics? A: Sure, join Breakout Point and start benefiting from our services.
* Note: Presented data and analytics is as of available on 2023-07-06, UTC 21:00.
The services and any information provided by Breakout Point or on the Breakout Point website shall not be, or construed to be any advice, guidance or recommendation to take, or not to take, any actions or decisions in relation to any investment, divestment or the purchase or sale of any assets, shares, participations or any securities of any kind. Any information obtained through Breakout Point and its services should never be used as a substitute for financial or other professional advice. Any decisions based on, or taken by use of, information obtained through Breakout Point and by its services are entirely at own risk.