Marshall Wace and AQR are the biggest short sellers of Deutsche Bank. Marshall Wace even added to their short position on the day when a 3.1% stake in Deutsche Bank by activist hedge fund, Hudson Executive Capital, became public.
Short Sellers vs Deutsche Bank
An about $650 million big stake in Deutsche Bank by activist hedge fund, Hudson Executive Capital became known on 2018-11-01. For more about this see WSJ article here. In this note, we focus on the short selling side and look at recent activities of the biggest Deutsche Bank short sellers.
Deutsche Bank has been one of the favorite short sellers' targets from EU banking sector in 2018. At 4.48%, it has 5th highest short interest among EU banks in our records.*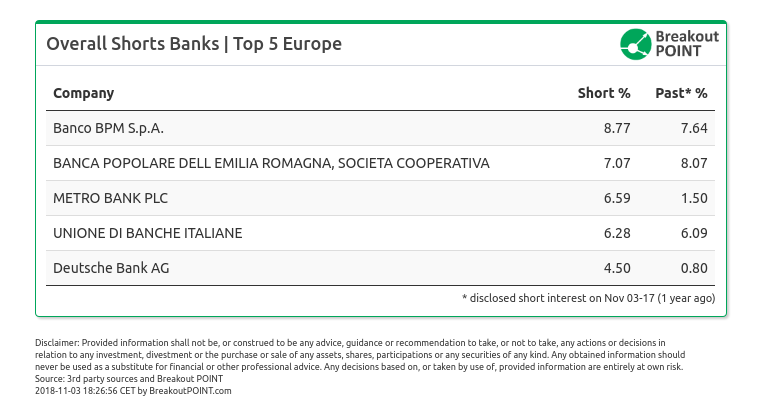 As of the latest short disclosures, three hedge fund hold a short in Deutsche Bank. All three are very well-known names in the hedge fund industry: AQR Capital 2.59% short (about $550m), Marshall Wace 1.41% short (about $300m) and Renaissance Technologies 0.48% (about $100m).

AQR has been reducing short position in Deutsche Bank since September. This short went from as much as 3.13% in September down to 2.59% in October. Similar reduction happened to another long-term short by AQR - their Commerzbank short went from 1.81% in August to 0.79% most recently.

On the other hand, Marshall Wace has been increasing their Deutsche Bank short in the past weeks. This short position went from 0.99% on 2018-10-10 to 1.41% in 2018-11-01. Interestingly, the latest short increase (from 1.31% to 1.41%) happened on the very day when 3.1% stake of Hudson Executive Capital was revealed.
Banks Shorts by Marshall Wace and AQR
Short selling in EU banking sector by Marshall Wace and AQR goes much beyond their Deutsche Bank shorts.These two have the most big shorts among EU banks. Especially Marshall Wace stands out with 13 such short positions.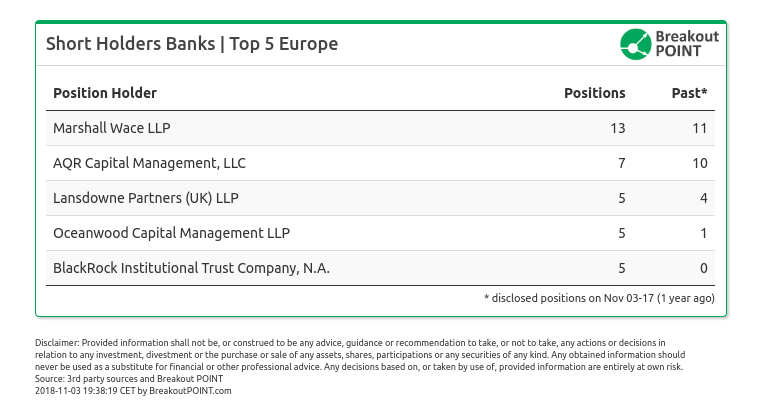 Such high number of Marshall Wace's short positions does not come as a surprise, and as we analysed in our "Who Shorted EU?" post, they have by far the highest number of significant short positions across EU.
Know what influential investors and activists do. Cancel anytime. Join Breakout POINT.
FAQ | Q: Can I publish parts of above data and analytics in an article? A: As long as you reference our work in your article - yes, you can.
FAQ | Q: Could you provide more related data and analytics? A: Sure, contact us and we'll try to help as soon as possible.
* Note: Presented short selling data is based on European net short position data which is disclosed to the public when short positions at least equal to 0.5% of company issued share capital.