Citadel Europe and Marshall Wace are the most active short sellers in EU airlines sector in our records, with two and four "big shorts" (shorts above 0.5% of issued share capital), respectively.*
Citadel Europe is betting close to €180m against two major EU airlines: Ryanair Holdings (short 0.95%, about €110m) and Lufthansa (short 0.82%, about €70m). Citadel Europe was the first hedge fund to pop-up with a big short in Ryanair since the regulatory short disclosure exist (Nov'12), and, as of the latest short disclosures, this is still the only big short in Ryanair. This big short appeared for the first time on April 2 and was increased several times since. Besides Citadel Europe, only WorldQuant is holding a big short (0.5% short) in Deutsche Lufthansa, but this is nothing like Q4 2016 when as many as eleven entities had simultaneously big shorts in this stock for a combined short interest of 11.88%.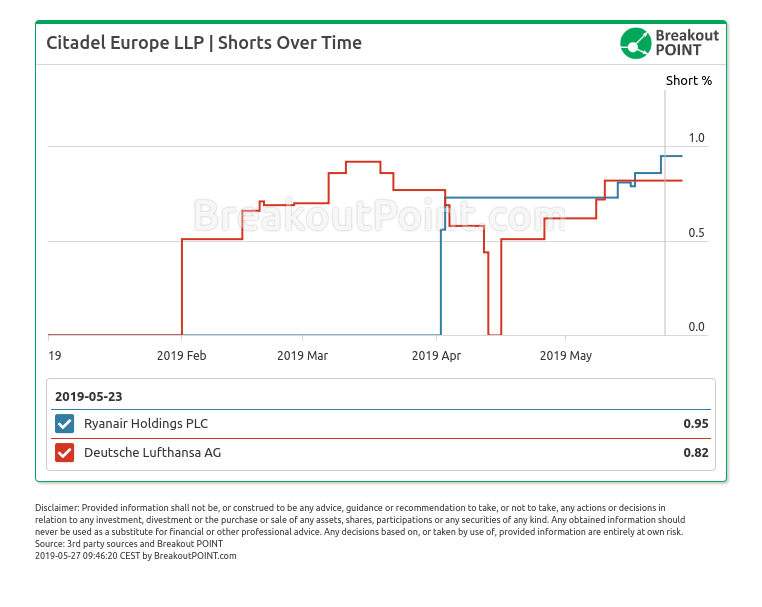 Marshall Wace is holding four big shorts in EU airlines: Air France-KLM, Easyjet, Wizz Air and Norwegian Air Shuttle. At about €75 million, the bet against Air France-KLM is their biggest sector short in terms of monetary value. This short was boosted following announcement of the Dutch government's stake (ref. our related post here).
Besides a 3.58% short by Marshall Wace, five more funds are holding a big short in Norwegian Air Shuttle for a total of 8.6% short interest. This also represents, by far, the highest % short interest in all of EU airlines sector.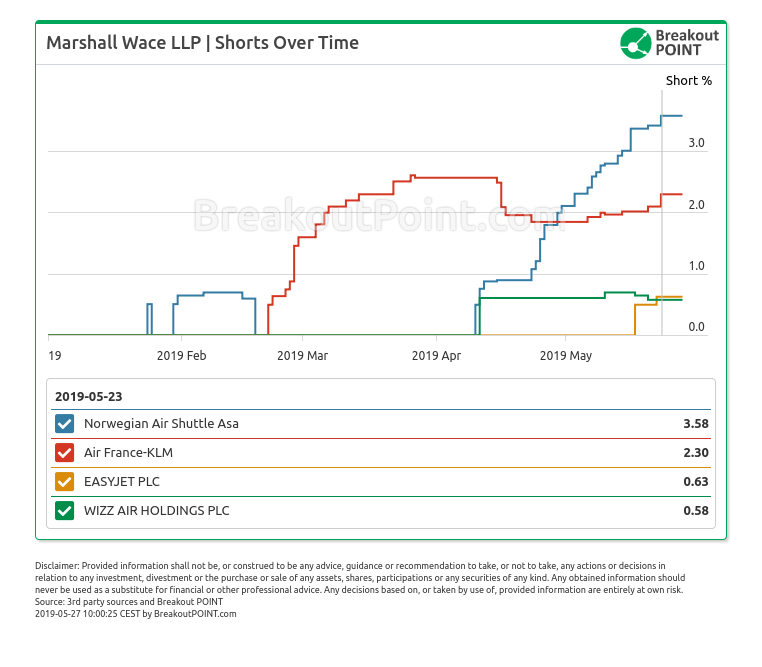 Don't want to miss the latest big bets against EU airlines? Join Breakout POINT.
FAQ | Q: Can I publish parts of above data and analytics in an article? A: As long as you reference our work in your article - yes, you can.
FAQ | Q: Could you provide more related data and analytics? A: Sure, contact us and we'll try to help as soon as possible.
* Note: Presented short selling data is based on European net short position data which is disclosed to the public when short positions at least equal to 0.5% of company issued share capital. Presented data and analytics is as of available on 2019-05-25.