---
TL; DR:
We tracked 82 major new short calls/campaigns in H1-19. Targeted stocks are -8.7% on average vs S&P 500 +17%;*
Best short call (>$1b initial mkt cap): Muddy Waters, Inogen -49.2%;
Best short call (<$1b initial mkt cap): Fraud Research, Perkins Oil & Gas -98.4%;
Top activists with at least 3 shorts: Aurelius (3 shorts, avg. -25.2%); The Friendly Bear (3, -23.7%); White Diamond (11, -14.9%);
Most active: White Diamond (11 shorts); Spruce (9 shorts); Citron (5 shorts);
Most targeted country: US (55 shorts, avg. -9%);
Most targeted sector: Healthcare (26 shorts, avg. -18.2%);
Newcomers to watch: Empty City, Black Stork, Grizzly, and Wolfpack.
---
Check-out our Q3 2019 activist short selling report here.
---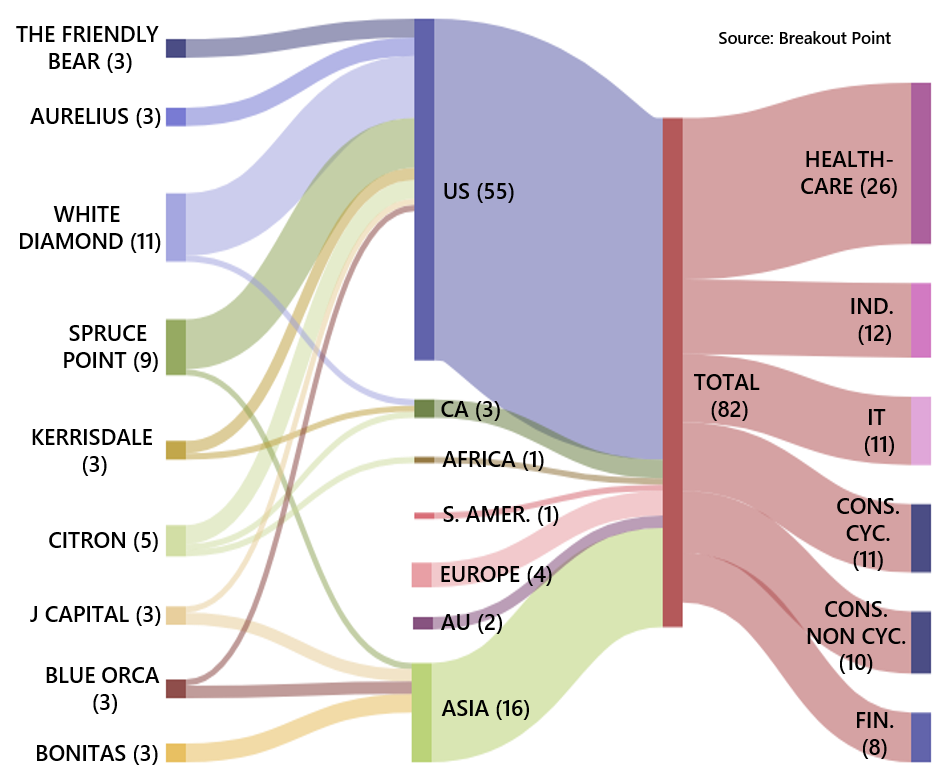 We tracked 82 new major short calls during the first half of 2019 (H1-19). On average, targeted stock dropped 8.7%, following a short call/report. This drop was achieved in spite of S&P 500 being up about 17% in H1-19.
During H1, three most active short sellers contributed about 30% of all new short calls These are: White Diamond with 11 shorts, Spruce Point with 9 and Citron with 5.
With 55 shorts, US (avg. stock performance -9%) tops our list of the most targeted countries/regions. This is not surprising and was observed in previous years as well. In Asia, we recorded 16 new major short calls (avg. -8.7%), which is already a higher number than for whole of 2018. The biggest decline in number of short calls, versus a year ago, was recorded in Canada with only 3 shorts, so far. However, Canada shorts were on average rather successful with targeted stocks performing -15.3%. We noted 2 short reports on Australian companies, most notably, a GMT Research report on CIMIC Group, Australia's biggest construction group.
Healthcare sector tops all sectors with 26 shorts and, from short-sellers perspective, a formidable average stock decline of 18.2%. Somewhat fittingly, biotech companies and activists short sellers were recently in the focus of the Nasdaq president's commentary (ref. Pensions & Investments).
Out of 82 short calls, 18 resulted in a stock drop of more than 25%. Average initial market cap of these 18 calls was about $800 million, indicating that vast majority of the most successful short calls targeted firms under one billion in market cap.
---

---
Top Activist Short Calls
As of end of H1-2019, top 10 short calls in terms of percent stock drop are: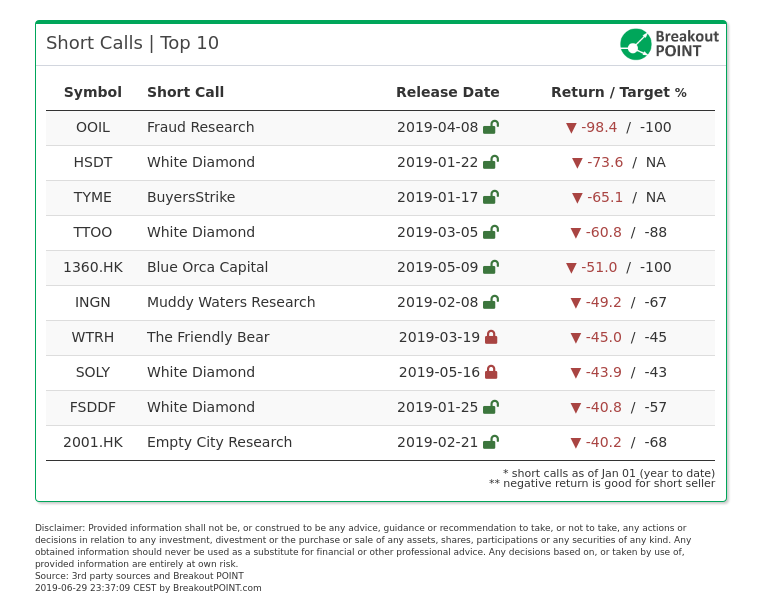 Top 5 calls from the table above focused on companies with a market capital that was under $1 billion when short call was initiated, and, with the exception of Blue Orca's report on NOVA Group (ex Mega Expo Holdings), all focused on US.
When looking at stocks above $1b in initial market cap, top 3 activists are: Muddy Waters, Inogen -49.2%; The Friendly Bear, Waitr Holdings -45%; and Aurelius, Vanda Pharmaceuticals -25.6%. Interestingly, Muddy Waters is not the only activist that had Inogen in focus. Citron Research issued a report focusing on Inogen back in May'18 (stock above $170) and, several days after Muddy's report, a follow-up report in Feb'19 (stock around $140). However, Citron's report does not pop-up in our list of new H1-2019 reports, because the first Citron's Inogen report appeared in 2018.*
The only activist that appears multiple times in top 10 is White Diamond. They typically focus on companies with a market cap of several hundred millions. White Diamond had a number of very successful short calls in H1 and manage to land 4 spots in our top 10 list.
With 11 shorts and an avg. stock decline of -14.9%, White Diamond is, also, on the third place in category of activists that had at least 3 short calls in H1-19. Two best performing activists in this category are: Aurelius (3 shorts, avg -25.2%) and The Friendly Bear (3, -23.7%).
Stork, Grizzly and a whole Wolfpack
We noted a number of newcomers that launched their first short campaigns in H1. Among the most successful short calls by newcomers are:
Empty City Research, China New Higher Education Group -40.2%,
Wolfpack Research, GTT Communications -21.8%,
Black Stork Research, STAAR Surgical -20%, and
Grizzly Research, Intelligent Systems -14.8%.
The most background information is available about Wolfpack Research. Wolfpack is backed by Muddy Waters Capital and was launched in May by a veteran activist short-seller Dan David, also known as the lead protagonist in documentary "The China Hustle", (ref. Muddy Waters Capital LLC).
Discover latest activist shorts calls. Get data and analytics on activist short selling now. Sign up for Breakout Point!
FAQ | Q: Can I publish parts of above data and analytics in an article? A: As long as you reference our work in your article - yes, you can.
FAQ | Q: Could you provide more related data and analytics? A: Sure, contact us and we'll try to help as soon as possible.
* Note: Presented short selling data is based on public activist short selling data that Breakout Point collected and compiled. Presented data is as of close on 2019-06-28. Our default methodology is applied, that measures % change in stock price versus the close prior to a short call. Negative returns, i.e. stock price drops, are good for the short seller. Follow-ups of recent reports by the same activist are not included when counting number of the new short calls. Headquarter location and not listing location is taken into account when determining company's country. Updated on 2019-09-2019 with mention of Citron's Inogen reports.