---
This week we have registered one new major short campaign, with targeted shares trading 16.1% lower.
Muddy Waters targeted a Covid-19 vaccine hopeful which is supposedly going to have a problem to even manufacture the potential vaccine. The short-seller has joined Citron and believes the space is just too crowded for the biotech to succeed.
We also highlight the GSX's announcement of SEC investigation into the company. The market sold-off the shares relatively quickly, but the shares continue to trade at significant premiums to when most of the campaigns targeting the online educator started.
Finally, we look at weekly movers which include a clear win for Biotech Research Partners and slow reverse of a negative trend for Hindenburg Research in one of their recent campaigns.
---
Bits and Pieces
Companies vs Critics: The Financial Times (FT) published a great piece on what its investigative journalist went through during the research on Wirecard. One of the many jaw-dropping details of this article is that Wirecard apparently leaked to traders that there was an upcoming critical article in the FT. Since some traders have seemingly taken short positions based on this leak, Wirecard could seemingly allege that FT is conspiring with the short sellers.
BaFin vs Short Sellers: While German prosecutors dropped probe into FT, a parallel criminal complaint against short-sellers is stil on-going. Here is what Muddy Waters had to say to that:
The amazing thing is this was written today. So much sarcasm comes to mind when reading this, like comparisons to OJ looking for the "real" killer; or, like who in their right mind could question the need for new leadership at #BaFin Don't you stop being you, Germany! pic.twitter.com/ZKuH90jHBQ

— MuddyWatersResearch (@muddywatersre) September 3, 2020
Retail investors and Tesla: We have seen wild swings in Tesla this week. On Monday, Breakout Point's retail flows feed detected an unusual stratospheric spike in positive retail flow and sentiment in Tesla (TSLA) and Apple (AAPL). As per our estimates, retail flows on Monday surpased infamous swarming day in Kodak. However, this retail interst spike in TSLA and AAPL started turning down alerady on Tuesday.

---
Need retail flows and sentiment? Robinhood's API, which provided popularity data, recently ceased operation. This data was popular not only with journalists and momentum investors, but also with short sellers, who frequently applied reverse Robinhood swarming strategies. The good news is that there are a few great alternatives and proxies for Robinhood's popularity data, eg our Retail Flows plan provides real time retail sentiment, estimates retail flows and positioning, and alerts about activities of VIP retail investors.

---
Big Movers
This week we have seen a sharp fall of Akebia Therapeutics (AKBA). This biotech dropped over 70% in one day. This is due to the release of updated data for its key asset. The sell-off was fuelled by the fact they were not able to meet their primary safety endpoint in the Phase 3 trial.
This confirmed the thesis of Biotech Research Partners who targeted this biotech due to allegations of drug efficiency and the eventual possibility of FDA rejection. The report talked about how the company obfuscated their previous results and how they improperly disclosed crucial facts that could have prevented the share price falling as hard as this week.
The stock is now down about 79% since the initial report. The short-seller did not suggest a clear target price, but the catalyst mentioned in the report was the release of further data. Thus, the majority of the downside is now likely gone.
Another stock that seemed to be losing steam this week is Facedrive (FD), short target of Hindenburg Research. The short-seller focused on this delivery and ride-hailing company due to allegations of...
(Get full weekly report and stay on top of activist short selling developments - Join Breakout Point).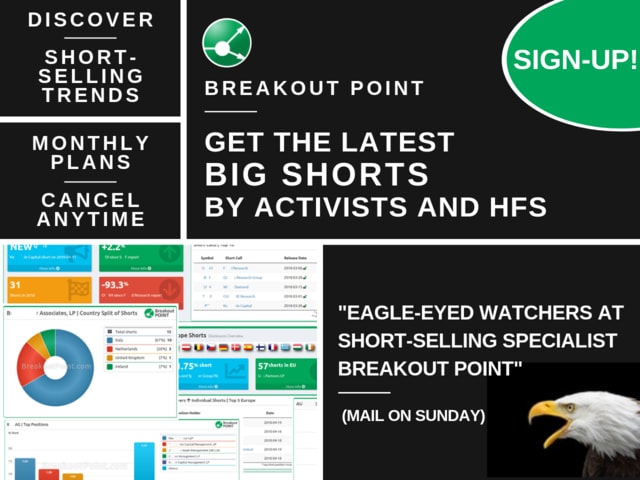 ---
FAQ | Q: Can I publish parts of above data and analytics in an article? A: As long as you reference our work in your article - yes, you can.
FAQ | Q: Could you provide more related data and analytics? A: Sure, join Breakout Point and start benefitng from our services.
* Note: Presented data and analytics is as of available on 2020-09-05, UTC 12:00.
The services and any information provided by Breakout Point or on the Breakout Point website shall not be, or construed to be any advice, guidance or recommendation to take, or not to take, any actions or decisions in relation to any investment, divestment or the purchase or sale of any assets, shares, participations or any securities of any kind. Any information obtained through Breakout Point and its services should never be used as a substitute for financial or other professional advice. Any decisions based on, or taken by use of, information obtained through Breakout Point and by its services are entirely at own risk.