Retail's favourites - IPOs, stock splits and governmental action
Since we started to track the popularity and sentiment of single stocks among the ever-increasing group of retail investors, we have noted several instances of outsized interest in 2020. Below you can see a list of the strongest such occurrences and their respective days. Our real time retail popularity estimates are based on data from various channels, including from various subreddits, specific subspaces on Twitter and others.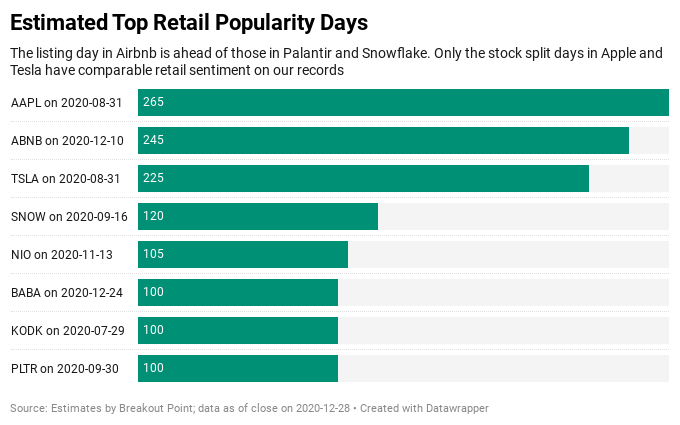 ---

---
Magical Stock Splits
Perhaps surprisingly for some, according to our estimates, the wildest day in terms of retail interest was the last day of August during which we have seen the stock splits of both Apple (AAPL) and Tesla (TSLA). The chatter about the event was largely chaotic amongst the retail crowd, even r/apple got involved and someone posted a link with an article with the following headline;
Historically, AAPL stock splits have seen stock rise 10% in next 12 months from r/apple
One of the most upovted threads on r/wallstreetbets was the explanation of the events and whether they matter to which the thread said
Since I didn't understand the " shareholder of record" I looked it up but as far as I can tell...it doesn't matter.
While it does not matter, the retail crowd was nonetheless talking about it even more than about some of the best known 2020 IPOs.
---
It's IPO Time
The only IPO that was able to mix into the stratospheric stock splits popularity was the recent listing of the Airbnb (ABNB). Our analysis shows that ABNB also skyrocketed into Robinhood's 100 most popular list very quickly after it IPOed. While the stock is now up about 7%, retailers have shown a sense of understanding that perhaps the valuation raises some questions as per the most upvoted thread on Reddit:
Someone tweeted this - DASH and ABNB $5.8B revenue combined, investors paying $169B market cap, Dotcom bubble 2.0? from r/wallstreetbets
The thread showcased a lively discussion of various takes on the stock and the general market such as this top comment and another self-aware follow-up.
The IPOs of Snowflake (SNOW) and Palantir (PLTR) also made it on the list, but the estimated levels of the retail interest were somewhat lower. However, that does not mean that our tracking tool which is updated about every fifteen minutes is not featuring one or the other. PLTR specifically was highlighted many times in our daily column looking at what, why and how are retailers talking about popular stocks. The popularity stems partially from the strong share price performance as the stock is up over 180% since the listing and has been up as much as 205%.
Due to this the retail crowd is especially sensitive when it comes to the stock. Thus when Citron said the stock is overvalued, r/wallstreetbets was quick to fire at the seasoned short-seller with the following profanity-ridden headline:
Citron shorting PLTR, they expect it to fall to $20. Fuck these guys, let's make them remember, we are the captains now. PLTR to $100 from r/wallstreetbets
---
And Citron again
Another perpetually popular stock that has found its way on the list is the famous 'TSLA clone' of 2020, Nio (NIO). The day it recorded its most popular day was incidentally also the day when Citron tweeted about the stock the following:
$NIO to $25 story https://t.co/FQYzY9brst

— Citron Research (@CitronResearch) November 13, 2020
Retailers were unmoved by this. They quickly dismissed it and they continued to bid up the stock after. While the shares have initially seen a sell-off, the stock is up slightly since the tweet.
---
Governmental Action
Alibaba (BABA) is also a similar example of a slightly counterintuitive reason as to why it got so popular on a single day just a week ago on the Christmas day. That day, news broke out about the following;
Alibaba under investigation on suspicion of monopoly, #China state TV reports. @AlibabaGroup is under investigation over allegations of monopoly, according to State Administration for Market Regulation Thu. @CGTNOfficial$BABA

— Eunice Yoon (@onlyyoontv) December 24, 2020
Reddit was quick to offer defence to shareholders who saw a slight sell-off in the shares. r/wallstreetbets featured a popular thread from a Chinese person who shed a light on the power struggle on the background of this anti-trust probe and offered the following bottom-line:
Answer is simple:

If you are holding stocks then just keep holding it. BABA isn't going anywhere, they are the ecommerce monopoly along with Tencent in almost the entire Asia. The dip will not stop until power struggle turmoil is over, it will get even uglier over the months as Politburo falsify more charges to threaten the CEOs to back down.
While others have written about BABA's VIE structure as potentially hurtful for shareholder value, most of the threads ended up on a positive note saying that this is likely a small hiccup. Hence, the stock was registered by our list.
The last stock on our list is the infamous Kodak (KODK) which was caught up in one of the biggest single-day surges we have witnessed this year. As the company announced that they have received a multi-million dollar loan from the government, traders jumped on the ship and started to push the shares up. The rest is history as many market participants know. One of the most upvoted threads on Reddit about this offered a glimpse of despair about how, in the eyes of an retail investor, the market is potentially functioning with the below headline:
SEC is a joke, insider trading is rampant, if youre retail you have no chance
We aso note that part of the original thread was seemingly based on the wrong information (date of the release of the information). Perhaps investors should not forget that KODK also got up again in the middle of December, thus the story might not be done yet.
---

---
FAQ | Q: Can I publish parts of above data and analytics in an article? A: As long as you reference our work in your article - yes, you can.
FAQ | Q: Could you provide more related data and analytics? A: Sure, join Breakout Point and start benefitng from our services.
* Note: Presented data and analytics is as of available on 2020-12-29 UTC 13:00.
The services and any information provided by Breakout Point or on the Breakout Point website shall not be, or construed to be any advice, guidance or recommendation to take, or not to take, any actions or decisions in relation to any investment, divestment or the purchase or sale of any assets, shares, participations or any securities of any kind. Any information obtained through Breakout Point and its services should never be used as a substitute for financial or other professional advice. Any decisions based on, or taken by use of, information obtained through Breakout Point and by its services are entirely at own risk.