This week we have registered two new major campaigns, with targeted stocks trading 3.2% lower on average.
We have seen a new firm, led by a seasoned short-seller, target a medical device company due to allegations connected to product concerns and fraud.
We also highlight the annual letter by Citron. The long/short fund recorded a strong year with a net return of over 150%.
Lastly, we talk about recent developments at one pediatric orthopedics company which admitted an SEC inquiry. The shares have fallen but have since started to rebound. They are down only about 7% since strong allegations about their revenue.
---
Bits and Pieces
'Cultural background' of short sellers: FT reported that German financial regulator BaFin noted the "homogenous cultural background" of Israeli and British investors who shorted Wirecard when it summarized the reasons for a suspected conspiracy. One member of the German Parliament said to FT:
"This language .. is unworthy of a German regulatory agency."
2020 and activist shorts: We recorded 177 new major short reports in 2020. Certainly, 2020 is not a year that many short researchers will remember fondly. However, 2020 is also full of highlights:
Akazoo: Another zero for QCM,
Amazing five in top ten by Hindenburg Research,
Citron Research's focus on the most popular retail stocks and
Luckin Coffee's due dilligence: sitting at cafés and counting.
Muddy Waters and Citron in 2020: Both Citron and Muddy Waters had a positive 2020. This is in contrast to 97 of 177 stocks that were in a focus of short research and whose EOY prices are higher than before the report:
In Tough Year for Short Sellers, Muddy Waters Pulls Off Big Gains.
---
Need retail flows and sentiment? Robinhood's API, which provided popularity data, recently ceased operation. This data was popular not only with journalists and momentum investors, but also with short sellers, who frequently applied reverse Robinhood swarming strategies. The good news is that there are a few great alternatives and proxies for Robinhood's popularity data, eg our Retail Popularity plan provides real time retail sentiment, estimates retail popularity and positioning, and alerts about activities of VIP retail investors.

---
Big Movers
On the right side of tracks for the short-sellers, we note the GSX price action. Several short-sellers are now slowly rejoicing as it seems that GSX entered a negative trend.
Is the server that's manipulating $GSX located in one of the houses of Congress?

— MuddyWatersResearch (@muddywatersre) January 6, 2021
It has lost about 30% in the last month and is down about 10% in the past five days. CJX Research says that the company is dealing with a severe cash crunch.
Evidence that $GSX doesn't have much money anymore.

— CXJ Research (@CXJResearch) January 6, 2021
On the other side of tracks, we are seeing strong performances by Atomera (ATOM) and Workhorse (WKHS). The first stock is up over 70% on the back of news that they have signed a joint-development agreement with a semiconductor company which should start using ATOM's products. If this PR and the contract does end up materializing, it would be in conflict with what one short-seller wrote in August past year about the business.
The second stock going up a lot in W1 is WKHS, the EV bet on a governmental contract. The company is up roughly 30% on the back of news that they were able to land a significant contract for over 6,000 units of their EV vehicles. The shares were also further supported by the notion that as Democrats are now in control, the company has a higher probability of success. The new administration is perceived to be friendly towards EV businesses.
Fuzzy Panda has not shared their latest insight into what is happening but has been adamant about WKHS eventually failing to receive the all-important USPS deal which would justify the current share price.
---
Citron celebrating a strong year and eyeing SPACs
While some short-sellers had it tough last year, Andrew Left and his team were able to come out on top and record a significant overperformance over the SP500. The Citron fund ended up 155% in net return. The portfolio was slightly tilted to the long side, but on average they still maintained a solid short book. From our records, we are seeing Citron's recent success in shorting some of the recently IPOed businesses such as DoorDash (DASH) or Luminar (LAZR), a Lidar business.
Mr. Left mentioned that the performance is also due to the stocks that they were NOT short. They successfully avoided being sucked in 'story' stocks. They did suffer in GSX as the shares went parabolic while the short-sellers believe it is a 'total fraud', but were able to navigate the position well.
As for the upcoming year, Citron sees the SPACs area as a rich one with investment opportunities, both long and short. At the end of the letter, they also mentioned that they are looking to hire new analysts.
For more thoughts, straight from Mr. Left we suggest watching this zer0es.tv interview where Carson Block has an entertaining chat about all things investing related.
Want a barrage of short-bombshells in 45 minutes....Here it is!! --> https://t.co/uELyH9XEaq@CitronResearch@muddywatersrepic.twitter.com/MFznANzzPO

— zer0es.tv (@zer0estv) December 18, 2020
---
Medical devices in focus
Kir Kahlon of Scorpion Capital has presented a short campaign on zer0es.tv which targeted Nevro (NVRO), a $5.8b medical device company focused on pain relief. The short-seller talked about allegations of product concerns and alleged...
(Get full weekly report and stay on top of activist short selling developments - Join Breakout Point).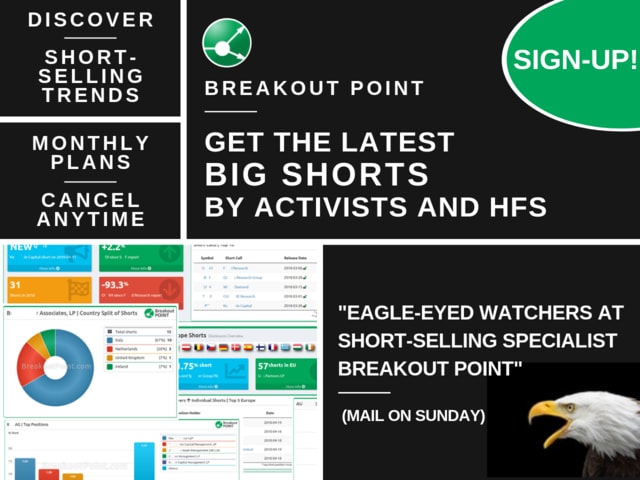 ---
FAQ | Q: Can I publish parts of above data and analytics in an article? A: As long as you reference our work in your article - yes, you can.
FAQ | Q: Could you provide more related data and analytics? A: Sure, join Breakout Point and start benefitng from our services.
* Note: Presented data and analytics is as of available on 2021-01-08, UTC 20:00.
The services and any information provided by Breakout Point or on the Breakout Point website shall not be, or construed to be any advice, guidance or recommendation to take, or not to take, any actions or decisions in relation to any investment, divestment or the purchase or sale of any assets, shares, participations or any securities of any kind. Any information obtained through Breakout Point and its services should never be used as a substitute for financial or other professional advice. Any decisions based on, or taken by use of, information obtained through Breakout Point and by its services are entirely at own risk.