At Breakout Point we are tracking retail popularity and sentiment by focusing on a number of different channels. One of the ways we keep a pulse of what the retail crowd is talking about is the leftover Robinhood data that are still public. We are diligently tracking for changes on Robinhood's list of 100 most popular stocks. In the first week of January alone, we analysed 16 new additions to Robinhood's list of the most popular retail stocks. Below you can find our compilation of the most interesting new 2021 additions.
---

---
What took ARKK so long to join Top 100?
In the past few weeks, this seems as a valid question. Tesla has been hitting new highs and actually hit Cathie Wood's price target of $4,000 per share (split-adjusted) recently. Almost any stock that is involved with the investment firm seemingly sees strong gains recently, just look at Nano Dimension Ltd (NNDM) which went up almost 400% in the past six months. This is despite doing about seven share offerings to the public during that time. It is of no surprise then that the ETF which tracks Ark's positions, ARK Innovation ETF (ARKK) has entered the most popular Robinhood stocks. There are also other Ark's ETFs which have been popular and have been frequently featured in our retail popularity estimations.
EV fortunes
The EV hype does not seem to be dying down, especially now that the democrats have won Georgia. The consensus is that the party will support the push into EV. This obvious dynamic then led to two new additions to the top list. The battery company Quantumscape (QS) has proven to have a somewhat resilient retail support base even despite the share price fall from the highs last month. Long before it joined Robinhood's 100 Most Popular, QS has been trending on our retail popularity list: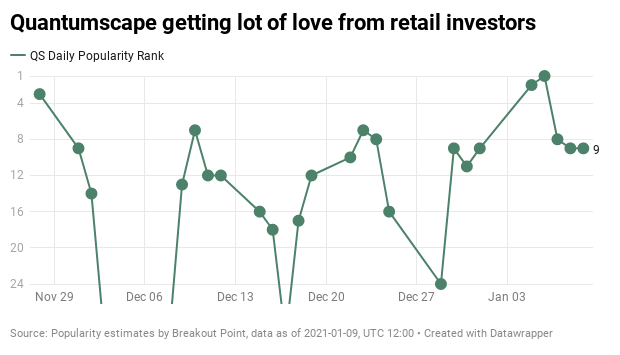 Blink Charging (BLNK) also showcases similar jubilant shareholders who are willing to continue to prop up the share price despite comments such as these.
New most ridiculous EV stock is $BLNK. No $$ for R&D, management accused of securities fraud, no real revenues. Expect a massively diluted deal soon so management can continue to deceive public. This should trade right back to $10 where it is still overpriced. Total scheme

— Citron Research (@CitronResearch) November 23, 2020
Just yesterday, the company has announced a secondary offering. This has briefly pressured the share price, but the stock eventually ended higher. Some has been baffled by this resilience.
$BLNK being up on the secondary is just about right for this market.

— Long Short Value (@LSValue) January 7, 2021
That being said the EV hype does have its losers. Electrameccanica Vehicles Corp (SOLO) seems to be slowly fading out of the interest of retailers as it dropped out of the Top 100 list. The share price has followed others and sold-off in the past two weeks.
Penny stocks
As we recently analysed, retailers are also now increasingly hunting in the penny stock area as they seek the next stock which will provide 100%+ gains in just a few days. r/pennystocks has been increasingly featured in our retail popularity blog posts. The two most recent examples which got themselves onto the Robinhood list are Bionano Genomics Inc (BNGO) and Ocugen, Inc (OCGN). Both are biotech-related plays which have recently seen seemingly positive business developments. OCGN is apparently advancing its COVID19 vaccine and BNGO, a genomic play, has notified the market that one of their clients will start to offer BNGO's product.
Skyrocketing prices took BNGO rather quickly to Robinhood's 100 Most Popular. Our retail popularity tracking engine detected BNGO's retail investors trend before it joined Robinhood's list:
The popularity of the stocks might not die down that easily due to the below.
$BNGO is going to takeoff
*catalyst*
1. 5 days of away from getting their compliance letter from NASDAQ
2. Genomics symposium January 11th thru 15th
3. Ark Invest very interested in $BNGO and has requested a meeting with the CEO of Bionano Genomics

— The World Is Not Enough (@LexLuthir) January 6, 2021
In my opinion, the best time to get into $OCGN now is while it's still under $3.

There are a number of positive factors lined up for this one, so I can only speculate it going up, with the possibility of it reaching double digit figures during Q1 of this year. $OCGN

— SM96 (@Shabz212) January 5, 2021
Governmental push
The retail community is not the only one that is able to create interest of others in certain stocks, the government is adept at this as well. Especially, after the recent elections. Not only that EV companies are likely to see further support from the administration, but that the cannabis market is likely to be another beneficiary. It is expected that as Democrats are in control, they are likely to reform the marijuana laws on a federal level. Thus retailers have started to prop up some stocks from this group, most notable is Sundial Growers Inc (SNDL) which has been mentioned in our retail popularity many times before.
Kodak (KODK), which is now leaving the list, also has been once the beneficiary of governmental interest as they were supposed to receive a material loan. As we now know this got blocked and the transaction was investigated, but the company has been able to come back into the spotlight several times. Thus while the interest is for now dying down, it might only be temporary.
---
Need retail poprularity, flows and sentiment? Robinhood's API, which provided popularity data, recently ceased operation. This data was popular not only with journalists and momentum investors, but also with short sellers, who frequently applied reverse Robinhood swarming strategies. The good news is that there are a few great alternatives and proxies for Robinhood's popularity data, eg our Retail Popularity plan provides real time retail sentiment, estimates retail popularity and positioning, and alerts about activities of VIP retail investors.

---
FAQ | Q: Can I publish parts of above data and analytics in an article? A: As long as you reference our work in your article - yes, you can.
FAQ | Q: Could you provide more related data and analytics? A: Sure, contact us and we'll try to help as soon as possible.
* Note: Presented data and analytics is as of available on 2020-12-09, UTC 12:00.
The services and any information provided by Breakout Point or on the Breakout Point website shall not be, or construed to be any advice, guidance or recommendation to take, or not to take, any actions or decisions in relation to any investment, divestment or the purchase or sale of any assets, shares, participations or any securities of any kind. Any information obtained through Breakout Point and its services should never be used as a substitute for financial or other professional advice. Any decisions based on, or taken by use of, information obtained through Breakout Point and by its services are entirely at own risk.