This week we have not registered any new major short campaigns but did see plenty of updates.
Activist short-sellers were busy updating their thesis as the earnings season is well underway. Culper wrote about a stock up over 120% since their initial report. They remain short. Scorpion and Jehoshaphat reaffirm their thesis on companies that are down about 30% and 40% since their reports. White Diamond writes about a space company that apparently continues to fail even though the share price is holding up.
Lastly, we are tracking the most recent stock price gyrations at several previous targets. We feature a speciality chemicals company that is apparently falling apart, a dubious Chinese-based crypto company, a questionable battery company that now seems to be rebounding and a live streaming audio platform.
---
Bits and Pieces
SPAC is back? What about SPAC short?

German Handelsblatt published full Rödl & Partner report into EY's Wirecard work. The report is classified as "secret", so interesting decision by this newspaper to publish it.

Potentially new dynamics among AMC retail shareholders with this disclosure by Marc Cohodes:
I leave all of that to you.. I own 60,000 AMC and I have a plan https://t.co/2CeM5BjBKt

— Marc Cohodes (@AlderLaneeggs) November 6, 2021
Aristides Capital chips in on Cassava Sciences (SAVA) developments:
1. there is literally no evidence their drug works
2. there is a ton of evidence of fraud
3. somehow this is a $3 billion market cap
4. position size small on every short these days, because of trader chatrooms/short squeezes

— Midwestern Hedgie (@MidwestHedgie) November 11, 2021
---
Get most popular retail stocks. Track real time retail sentiment and popularity via our APIs and dashboards.

---
---
Big Movers
This week's we saw several stocks that moved in the right direction for the short-sellers. One of the biggest movers was Amyris (AMRS) which is down 43%. This $4.94bn speciality chemicals company was initially targeted by Western Edge in March of 2021 due to allegations of questionable track record and accounting.
Most importantly, the report believed the company has a dubious track record of delivering what the management has touted several times. One lawsuit alleges the company has misrepresented progress with one customer, and that customer refused to lie to AMRS auditors. The report also talks about several instances where the company completely missed guidance.
It seems the thesis is now playing out as per the report. The share price decline occurred due to a negative earnings result and the announcement of further dilution of current AMRS shareholders. Western Edge reiterated their warning in August of this year and mentioned that this is likely to happen. The stock is down about 60% since the initial report.
Another stock that has registered a significant decline is Sos Ltd (SOS) which declined almost 30% in the past five days. This Chinese-based crypto company was initially targeted by two activists, Culper and Hindenburg. Both raised similar allegations of dubious business model and practices.
Most importantly, the short-sellers believed the company had been lying about its acquisition of a bitcoin business. The transaction seems to be with an undisclosed related party. This party also apparently stole the appearances of the business from a legitimate Chinese company dealing with crypto mining.
The company has been struggling to show otherwise. The recent decline in the stock was caused by a release of an offering which will again dilute current shareholders. The stock is down 75% since both activists targeted the business.
However, retailers, especially on Twitter, seem to be still thinking about a short squeeze and they continue to believe in the stock's fundamentals.
On the other side of the tracks, several stocks have moved against short-sellers. One of the most significant surges was seen in Yalla (YALA). This live streaming audio company was initially targeted by Swan Street Research and Akram's Razor. Both highlighted YALA due to allegations of fake users and fake revenue.
Most importantly, the reports believed the company is using bots and fake accounts to boost user numbers. This was concluded through data scraping as well as other channel checks, such as the negligible mentions of the platform around the web. Apparently, the overstatement of the user numbers could be up to 7x.
The thesis seems to have prevailed as the stock is down more than 50% since the reports. However, it seems the market is giving the stock another chance after they released their earnings. Swan Street believes there is still a further downside.
When I called for $2/share, Yalla was at $18. Today, Yalla is around $6 -- road may get bumpy, but I think the destination still the same. $2 or de-list.

(also, @akramsrazor deserved mention, kudos to Akram)

— Fidel Cashflow (@TangoGrenada) November 1, 2021
Another stock that went against shorts was QuantumScape (QS). This battery company was initially targeted by Scorpion Capital due to allegations of dubious product claims and corporate governance.
Most importantly, the report believed the company has misled investors about QS's core battery technology. The short-seller found many instances where the company allegedly lied about how the technology works. They cross-checked these claims with industry experts as well as former employees.
In the first weeks, Scorpion seemed to have persuaded the market, and the stock was declining. Now it seems the tables have turned after the company released news about testing their battery and how it is supposedly functioning in the real world. This got investors excited, and they jumped back in. The stock is down only about 2% now. Scorpion has not released an update yet.
---
Earnings in full swing
This week we have noted several updates to previous campaigns as the earnings season continues to shine a light on new developments in older targets.
Culper published a full update on Aemetis (AMTX). This renewable orientated company caught Culper's interest due to allegations of a dubious track record and business model.
Most importantly, the initial report believed the company is nothing but a...
---
(Stay on top of short selling developments - Join Breakout Point).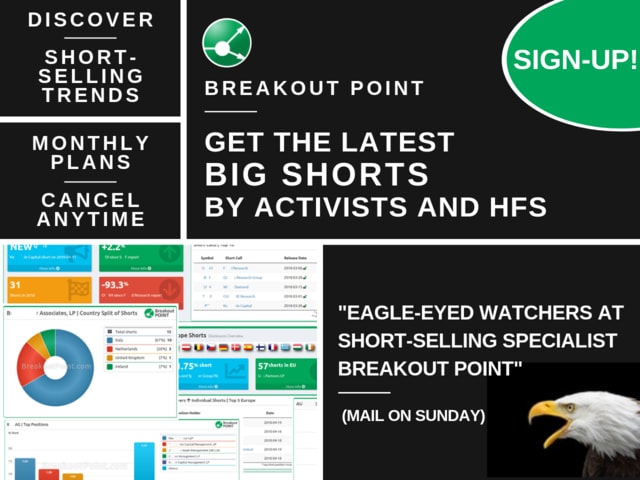 ---
FAQ | Q: Can I publish parts of the above data and analytics in an article? A: As long as you reference our work in your article - yes, you can.
FAQ | Q: Could you provide more related data and analytics? A: Sure, join Breakout Point and start benefitng from our services.
* Note: Presented data and analytics is as of available on 2021-11-14 UTC 12:00.
The services and any information provided by Breakout Point or on the Breakout Point website shall not be or construed to be any advice, guidance or recommendation to take, or not to take, any actions or decisions in relation to any investment, divestment or the purchase or sale of any assets, shares, participations or any securities of any kind. Any information obtained through Breakout Point and its services should never be used as a substitute for financial or other professional advice. Any decisions based on, or taken by use of, information obtained through Breakout Point and by its services are entirely at own risk.