The trend of pushing companies onto the public market via a SPAC transaction does not seem to be dying out. There was a brief pause earlier this year in terms of investor optimism, but that did not stop the companies. 2021 is on track to become another record year for SPACs. According to CNBC, there were more than 500 SPAC transactions just this year which is already more than double in 2020. Google Trends data clearly illustrates this 'SPAC is back' trend, but interestingly focus on 'The King of SPACs' seems to be misssing this time:
Recently, also retail investors got yet again very excited with (de)SPACs. This started with focus on a 'Trump play', Digital World Acquisition Corp (DWAC) and quickly morphed into focus on deSPACS. Among deSPACs that got in focus were/are: Bakkt Holdings Inc (BKKT), Redbox Entertainment Inc (RDBX), Diginex Ltd (EQOS) and IONQ Inc (IONQ). For example, BKKT closed 234% higher on Monday October 25, after we detected rise in retail investors focus on October 22.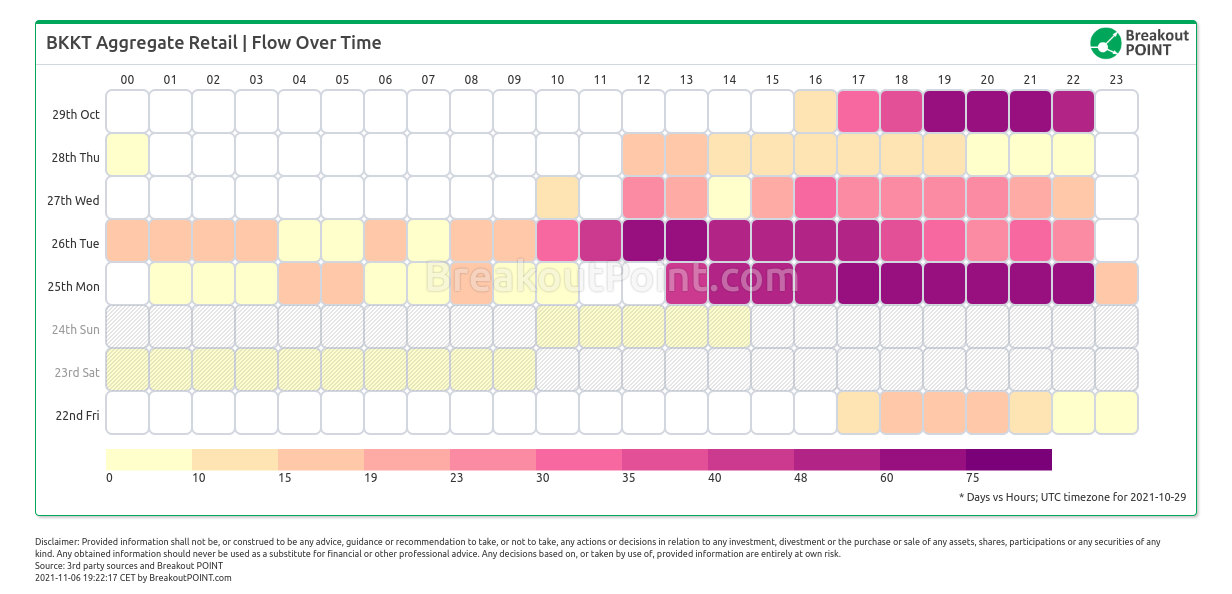 ---
Get most popular retail stocks. Track real time retail sentiment and popularity via our APIs and dashboards.

---
Short Sellers: More SPACS please
With such flurry of SPAC activity, it is no wonder then that activist short-sellers are busy targeting SPAC companies.
Especially since some of the best calls in recent years were SPACs. Last year, it was QCM who spotted another zero in Akazoo, a streaming platform. QCM targeted the company due to allegations of being a pyramid scheme. Some of the allegations were quickly confirmed, and the stock filed a delisting notice about two months after the initial report. Recently Akazoo agreed to $38.8m settlement with the SEC over fraud charges. Hindenburg with Nikola and infamous we 'never stated its truck was driving under its own propulsion in the video, although the truck was designed to do just that' line of defense was another excellent example of how SPACs were exposed by activists.
This environment spawned another 28 such reports this year.
EV SPACs please
One major trend is targeting EV-related SPACs. This is not a surprise to people who check which companies go public via SPACs.The list of 'TSLA wannabes' is long.
You have the campaigns of Blue Orca and Iceberg, both targeting Hyzon (HYZN), a Chinese-based hydrogen fuel cell stock. Both short-sellers wrote about allegations of dubious business model and serious red flags concerning corporate governance. Think China Hustle – EV version. The stock is down about 38% since Blue Orca's initial report.
Or you have Hindenburg's campaign against Lordstown (RIDE), which already yielded several memes.
So there were 2 EV trucks competing in the much-hyped 280-mile San Felipe race this weekend:

1. The $RIDE Endurance, which made it 40 miles.
2. A truck named the "Shitbox" (pictured below) built by a couple guys in their garage, which made it 156 miles. pic.twitter.com/YkGZ0dba91

— Nate Anderson (@ClarityToast) April 19, 2021
RIDE is down about 68% since Hindenburg's report. RIDE is also the stock that was initially connected to Workhorse (WKHS), another EV entity that collapsed after they lost the famed USPS bid. Fuzzy Panda was there to see it all the way through. Another hard-hitting campaign was by Muddy Waters who targeted XL Fleet (XL) in March of this year. The stock is down 67%.
The EV SPAC sector also spawned several entities which deal with batteries, such as QuantumScape (QS). These stocks were not spared either. Scorpion Capital believes QS has misled investors and is showcasing similar red flags to Theranos. The stock is down 24% since then.
New tech SPACs please
Another major trend in activists targeting SPACs was focusing on obscure technologies. Stocks such as Danimer (DNMR), a bioplastics company, Purecycle Tech (PCT), another plastic-related venture, or Triterras (TRIT), a Singapore-based blockchain venture, were seemingly easy targets. DNMR is still up over 10% since Muddy's campaign but TRIT and PCT are down more than 40%.
We would also note that most of these campaigns rarely sparked a controversy. Some targeted popular retail stocks. However, as many stocks were already down even before the short-seller report, the leftover shareholders did not find as much support as in the case of AMC, GME and others we have mentioned last week in another blog post.
Overall, you can see it was mostly a good year for short-sellers who decided to focus on the SPAC arena. Perhaps, one example which speaks for all of the positive returns is Kerrisdale's campaign against Virgin Galactic (SPCE). This meme stock was a long-time favourite of the retail army. The fact that SPCE is down 37% since their report shows you the market has seemimgly grown sceptical of SPACs. DraftKings (DKNG) which was written about by Hindenburg is also a similar story.
All this being said this likely does not mean the SPAC promoters are going to stop anytime soon. There are likely too many incentives to try to 'offload' the allegedly healthy, growing and creative companies onto the public market. For more information, we suggest reading a guest post of Reed from Wolfpack Research who laid out why private equity might want to keep the SPAC boom going.
---
(Stay on top of short selling developments - Join Breakout Point).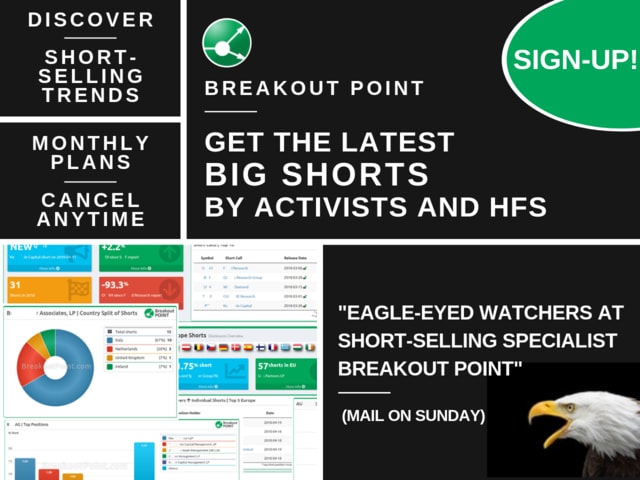 ---
FAQ | Q: Can I publish parts of the above data and analytics in an article? A: As long as you reference our work in your article - yes, you can.
FAQ | Q: Could you provide more related data and analytics? A: Sure, join Breakout Point and start benefitng from our services.
* Note: Presented data and analytics is as of available on 2021-11-06 UTC 12:00.
The services and any information provided by Breakout Point or on the Breakout Point website shall not be or construed to be any advice, guidance or recommendation to take, or not to take, any actions or decisions in relation to any investment, divestment or the purchase or sale of any assets, shares, participations or any securities of any kind. Any information obtained through Breakout Point and its services should never be used as a substitute for financial or other professional advice. Any decisions based on, or taken by use of, information obtained through Breakout Point and by its services are entirely at own risk.