What a year for retail investors! 2021 was a transformational year for the retail community over at r/wsb (wallstreetbets), Twitter and other social media channels. 2021 started with a bang as the whole GameStop saga achieved its peak around late January. From then on, it was a wild ride, with many stocks being pulled up and down as retailers have poured in or out.
Given our database of most popular individual stocks among retail investors, we have a unique vantage point from which we can do a comprehensive overview of what was 2021 all about from the perspective of retailers. In this post we focus on the most popular stocks in the second half of 2021.
The outcome can be surprising for some. While AMC Entertainment (AMC) and GameStop (GME) are obviously featured, these OG meme-stocks of January-spike fame are only occupying 5th and 7th place in H2 of 2021. Other OG meme stocks are also missing from top 20, and are ranked somewhat lower on our list, for example, BlackBerry (BB) is 37th, while Bed Bath & Beyond (BBBY) is 50th. Perhaps apart from Camber Energy (CEI), Cassava Sciences (SAVA), and FuelCell (FCEL) the list is filled with relatively prominent names that did not usually feature the popular short-squeeze thesis. This is not to say that we have not detected many meme-stocks in 2021 and many are prominent in ranks below 20, for example, TROOPS (ticker TROO, ex-SGOCO), is 25th, Globalstar (GSAT) is 28th, NeuroMatrix (NURO) is 32nd, and Vinco Ventures (BBIG) is 34th. The meme-stocks list goes on and on.
We believe this shows that while retailers can get crazy about individual stocks, these 'manias' are often short-lived and can fade quickly. That is unless we are talking about AMC and GME (which now even has a specific subreddit r/superstonk, a breeding ground for all sorts of theories as to why the stock will eventually 'moon').
Instead, you can find the obvious four EV names constantly discussed throughout the year as well as chip stocks, COVID19 vaccine stocks and big tech players who had a strong year. Some stocks went under media's meme-radar as they were not really popular on wsb but, instead, were very popular in other parts of retail multiverse. The best example for that is Ford (F) that ended 2021 at spot 10 and had a stellar start of 2022. F has been a usual suspects on our top 10 lists ever since September 2021 and the shares appreciated almost 100% since.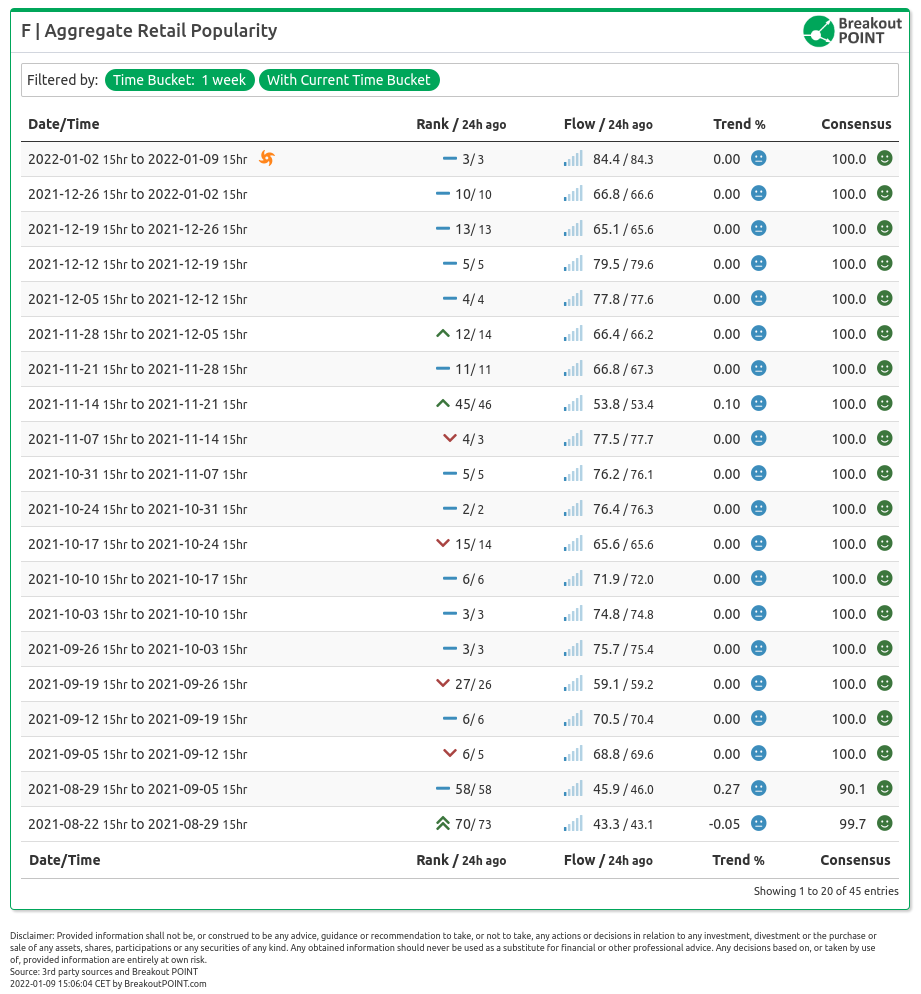 We also looked at the best and worst perfromers of 2021 among most popular retail stocks.
Both AMC and GME are still holding very significant gains in 2021, and while they might not be the most popular stocks on our previous list, they certainly have a dedicated fan base. The less popular short-squeeze names on our successful list are TROO (used to be SGOC), ISIG and to a certain extent SAVA and Oucgen (OCGN), although the last two were initially driven by fundamentals news only to be targeted by short-sellers. This started the usual conflict between retailers and short-sellers. We have written about this 2021 trend some weeks ago.
These names were heavily trending on r/shortsqueeze, a subreddit that now has over 100k 'angry bulls' as subscribers. While the subreddit is relatively small compared to the likes of r/wsb (11.5m 'degenerates'), the impact on the share price can be large if they start talking about a single ticker.
The rest of the stocks that have survived a wave of retail interest and thrived are either EV names or stocks such as Moderna (MRNA), where the broader market joined the retailers.
On the other side of the fence, we see the outcome when retailers desperately try to persuade others to buy the stock, but it does not work out.
The notable exceptions are TAL Education Group (TAL) - collapse of the Chinese online tutoring sector; Robinhood (HOOD) - many retailers are actually negative on HOOD due to the GME ordeal; and Coinbase (COIN) - exposure to volatile crypto market.
Perhaps one of the most notorious cases of 'bag holding' might now be Alibaba (BABA). This Chinese stock has plagued r/wsb and other social media channels for the better part of 2021. The stock was in downward trend for most of 2021. Clover Health (CLOV) is an interesting case as well, especially since this was a SPAC stock brought public by the well-known venture investor, Chamath Palihapitiya.
But perhaps Virgin Galactic Holdings (SPCE) is the best stock that could describe the year 2021 from the retail perspective. This space play was a SPAC, it became extremely popular on the back of promising launches, it got targeted by short-sellers, most notably by Kerrisdale Capital, insiders sold almost all of their holdings, and it is now facing a tough time as the valuation was possibly 'unhinged' from what the business is actually capable of.
We will see how big of a wild and volatile ride 2022 will be, but in every case, we will be watching and analysing reporting from the frontlines about how it is going.
---
Get most popular retail stocks. Track real time retail sentiment and retail popularity via our APIs and dashboards.

---
FAQ | Q: Can I publish parts of above data and analytics in an article? A: As long as you reference our work in your article - yes, you can.
FAQ | Q: Could you provide more related data and analytics? A: Sure, join Breakout Point and start benefiting from our services.
* Note: Presented data and analytics is as of available on 2021-12-31, UTC 12:00.
The services and any information provided by Breakout Point or on the Breakout Point website shall not be, or construed to be any advice, guidance or recommendation to take, or not to take, any actions or decisions in relation to any investment, divestment or the purchase or sale of any assets, shares, participations or any securities of any kind. Any information obtained through Breakout Point and its services should never be used as a substitute for financial or other professional advice. Any decisions based on, or taken by use of, information obtained through Breakout Point and by its services are entirely at own risk.