In this special post, we look back at one of the most prolific activists in 2022. Hindenburg Research has maintained an impressive rate of new reports while maintaining stellar performance.
We also highlight their work outside the usual activist campaigns, such as trading in Twitter, helping the FBI with exposing a Ponzi scheme, or pulling 'Muddy Waters' and exposing fake whistleblowers.
Hindenburg already published their next campaign, and we were there to report it.
---
While we covered the year 2022 in Activist Short-Selling early on, we thought it would be fitting to highlight the activity of Hindenburg Research in a standalone post. The activist reached new heights last year and continued to channel some of the OG activist vibes.
Just as an example, Hindenburg pulled 'Muddy Waters' when going undercover to try and expose entities trying to infiltrate their activities.
In the case of Muddy, it was a fake WSJ reporter who turned out to be hired by Casino, during one of the ugliest campaigns endured by Muddy. Hindenburg had to deal with a Floridian car salesperson turned Nikola helper. The activist has released a fascinating thread about the whole action, which dates back to 2020.
This was all during peak Covid, so we were all masked, and figured they couldn't ID us (or vice versa) with masks on. This would pose a challenge for both sides.

(25/x) pic.twitter.com/rhQoDGC6yd

— Hindenburg Research (@HindenburgRes) September 29, 2022
We would also recommend a podcast on the whole Nikola saga, which was well-made by WSJ (the real one this time). Hindenburg's win in Nikola remains one of the main factors why the activist is likely facing less obvious Twitter hate than some other activists. They also command almost the same amount of followers as Muddy Waters, with Hindenburg having almost 300k people reading their tweets.
All this while their performance continued to be stellar.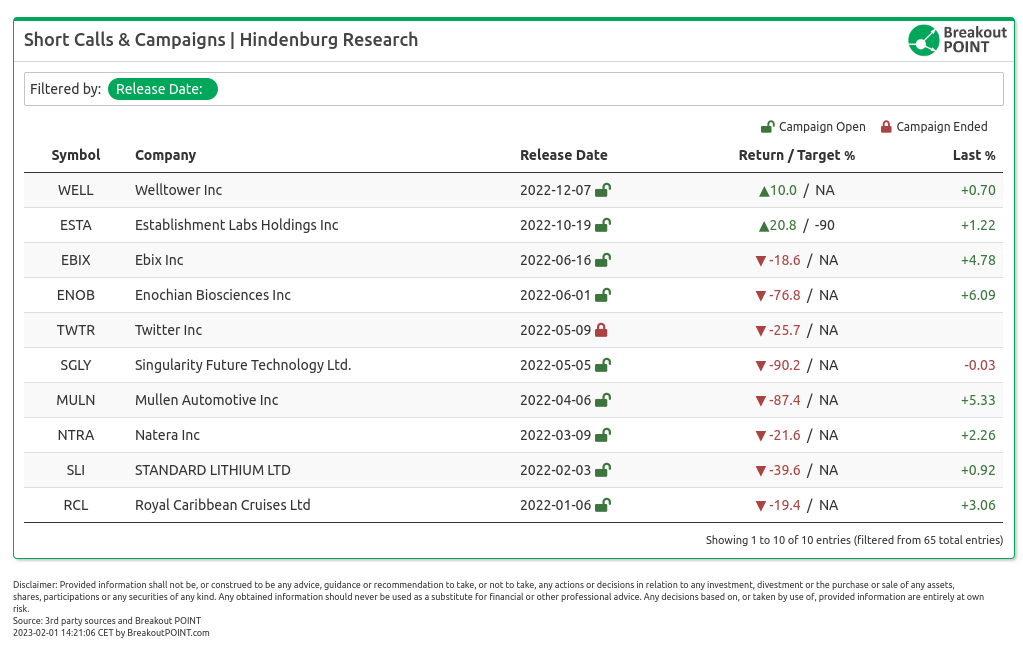 Probably the most colourful campaign in 2022 was against Enochian Bioscience (ENOB). Hindenburg targeted a $600m biotech with links to a spoon-bending magician who ultimately got charged in connection with a murder-for-hire plot. The whole campaign probably summarizes what a day in the office is like for the team.
NEW FROM US: Miracle Cures and Murder For Hire–How A Spoon-Bending Turkish Magician Built A $600 Million Nasdaq-Listed Scam Based On A Lifetime Of Lies

(1/x)https://t.co/pEixu7gQu4$ENOB

— Hindenburg Research (@HindenburgRes) June 1, 2022
It is fair to say that activities of the same person were already highlighted by White Diamond Research three years prior to Hindenburg's brilliant work.
A campaign which seems to share some similarities to EBON is EBIX. Hindenburg targeted this stock, an Indian-based fintech company, due to allegations of dubious accounting and questionable customers.
Most importantly, the report believed the upcoming IPO of EBIX's subsidiary, Ebixcash, is unlikely to bring much value. As per the activist, the subsidiary is apparently plagued with plenty of red flags which raise significant questions about the true nature of the business. Two of its key customers who represent over $80m in revenue are apparently dubious entities. One reported only $150k in revenues in 2020 and its headquarters were empty. The other customer claims that they are an e-commerce business, but their website is not working.
Overall, we expect $EBIX's planned subsidiary IPO will flop or fail.

Given its massive near-term debt load in a rising rate environment, we see significant solvency risk over the next 12 months.https://t.co/K8aH3dd95Cpic.twitter.com/hDfDrlKlt6

— Hindenburg Research (@HindenburgRes) June 16, 2022
EBIX was also targeted by Viceroy Research prior to Hindenburg. The stock is now down 'only' 17% as the stock managed to rebound significantly.
However, Hindenburg took their skills and also applied them outside the activist world. Instead of trying to find a new fraud, they focused on Elon Musk and his messy Twitter saga, which ultimately played out very well. First, they shorted the stock as they saw an opportunity for repricing. In July, they updated their view and instead went long as the Twitter lawsuit suddenly started to pose a significant threat to the buyer.
We have closed our long position in Twitter. pic.twitter.com/wsmbhxtyz9

— Hindenburg Research (@HindenburgRes) October 4, 2022
They also popped into the world of FBI investigations after Hindenburg tipped off the agency about a Ponzi scheme which seemed to pass $300m in losses but was eventually stopped with the help of Hindenburg's research.
New From Us—J&J Purchasing: When It Sounds Too Good To Be Truehttps://t.co/ZD6os2YeSg

(1/x)

— Hindenburg Research (@HindenburgRes) March 24, 2022
When you look at the quality of the due diligence you simply can't but admire how short-selling activists are dedicated to their 'craft'. The whole 2022 activity certainly plays well into the notorious story of QCM sending flowers to get a signature out of one person of interest while working with Hindenburg.
That time @QCMFunds sent flowers to a male exotic dancer. Yes you read that right! Check out our profile of Gabriel Grego https://t.co/C83CPRHyEk#hedgefunds

— ValueWalk - Exclusive hedge fund info (below) (@valuewalk) January 14, 2021
Last but not least, we are looking forward to seeing how Hindenburg's latest 2022 campaigns are going to play out. Both Establishment Labs (ESTA), a supposedly dubious breast implant company, and Welltower (WELL), a large healthcare REIT with a supposed related-party transactions problem, are up so far. ESTA is up 20.8%, and WELL is up 10%.
In any case, Hindenburg is already working on another and their first campaign of 2023, focusing on Adani Group, was out on 25th of January:
NEW FROM US:

Adani Group – How The World's 3rd Richest Man Is Pulling The Largest Con In Corporate Historyhttps://t.co/JkZFt60V7f

(1/x)

— Hindenburg Research (@HindenburgRes) January 25, 2023
---
Don't miss latest activist short selling reports and insights - Join Breakout Point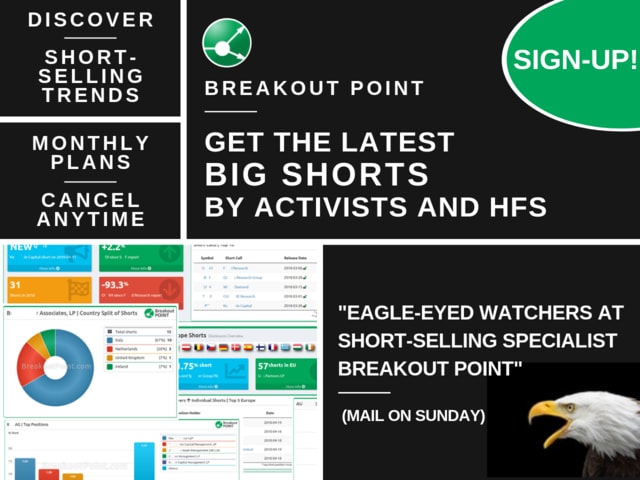 ---
FAQ | Q: Can I publish parts of above data and analytics in an article? A: As long as you reference our work in your article - yes, you can.
FAQ | Q: Could you provide more related data and analytics? A: Sure, join Breakout Point and start benefiting from our services.
* Note: Presented data and analytics is as of available on 2023-02-01, UTC 12:00.
The services and any information provided by Breakout Point or on the Breakout Point website shall not be, or construed to be any advice, guidance or recommendation to take, or not to take, any actions or decisions in relation to any investment, divestment or the purchase or sale of any assets, shares, participations or any securities of any kind. Any information obtained through Breakout Point and its services should never be used as a substitute for financial or other professional advice. Any decisions based on, or taken by use of, information obtained through Breakout Point and by its services are entirely at own risk.