---
This week we have registered four new major short campaigns and one brief, yet interesting negative flag by Citron Research.
All four campaigns carried strong allegations which could result in significant downside opportunities. So far Muddy is the winner as it pulled down a recent SPAC transaction by more than 20%.
QCM and Bonitas on the other hand are struggling to turn the market opinion in their favour so far.
Finally, we also look at the recent high-flying stocks which defy the allegations of several campaigns.
---
Bits and Pieces
Going Long 'Short Tells': One of the segments we are closely paying attention to at newly launched short selling dedicated TV station aptly named zer0es.tv is the series called 'Short Tells'. These are short videos of short-sellers talking about what are the usual tell-tale signs that something might be off in any given company. We summarised here what these 'Short Tells' have been telling us in the past weeks.
Point72 vs Spanish Biotech Firm: Point72 Asset Managment disclosed a 0.51% short position in Pharma Mar. The short position refers to November 12th, the date when one critical short report has been published. Initial stock reaction has been muted.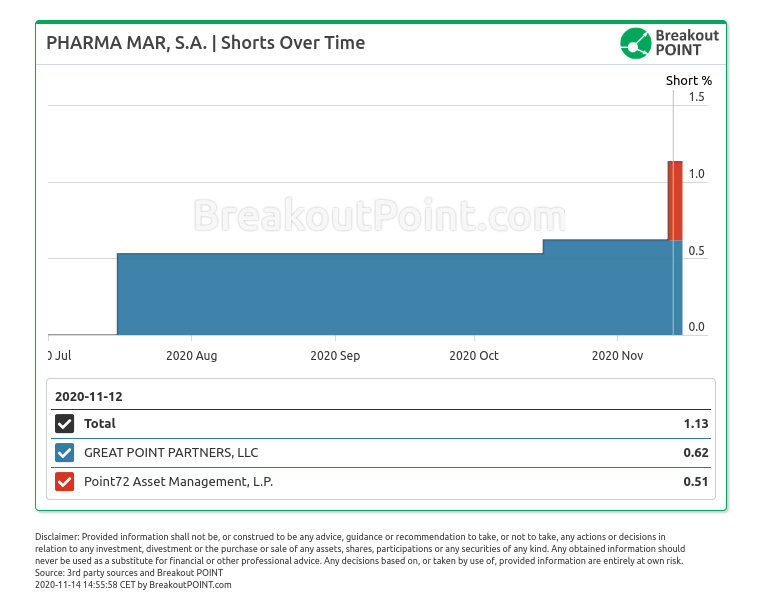 Citron vs Retail Investors: Another interesting dimension to Friday's short call by Citron on Nio Inc (NIO) is stock's extreme recent popularity among retail investors. As we previously uncovered, this has especially been the case since the US elections. Further evidence for NIO's retail popularity is record number of often negative replies to Citron's NIO tweets: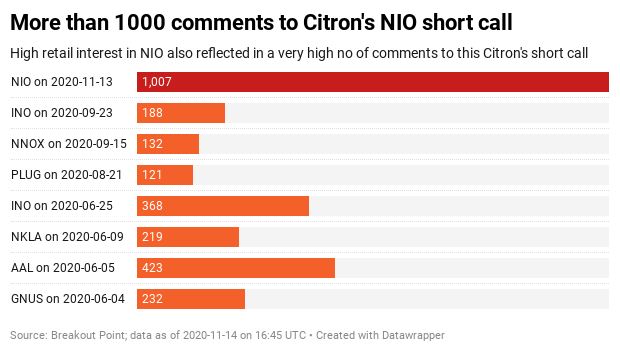 ---
Need retail flows and sentiment? Robinhood's API, which provided popularity data, recently ceased operation. This data was popular not only with journalists and momentum investors, but also with short sellers, who frequently applied reverse Robinhood swarming strategies. The good news is that there are a few great alternatives and proxies for Robinhood's popularity data, eg our Retail Flows plan provides real time retail sentiment, estimates retail flows and positioning, and alerts about activities of VIP retail investors.

---
Big Movers
The biggest decliner this week was Akerna (KERN), a cannabis-related software company, which was targeted by Night Market Research in February of this year.
The campaign was mainly focused on the alleged unsustainability of KERN's business. It seems the allegations, to a certain extent, came out as true as the company missed revenue estimates and promptly sold-off. Thus, the brief run-up in the shares caused by the election-effect (approval of marijuana decriminalization in several states) was short-lived.
Night Market did not state what could be the ultimate downside risk but saw limited upside risk given the state of KERN's fundamentals. The stock is down 60% since their initial report.
Another strong sell-off was prompted by none other than Muddy Waters. The veteran short-seller targeted MultiPlan Corporation, a $4.68bn healthcare analytics company which came public recently via SPAC.
The report was mainly alleging that the SPAC sponsor did not do enough due diligence and missed that MPLN's main customer launched their own competing service. According to Muddy Waters, this is likely to take over a significant portion of the company's revenue, at least 35% by 2022. The report also noted the private equity firm which owned MPLN prior to the SPAC transaction was fourth such PE firm holding ownership of the business. Thus, short sellers argued that it is likely that firm was desperate for an exit and SPAC was the last viable option.
The firm issued a boiler-plate response without delving into any specific allegations raised by the report which Muddy quickly dismissed.
I love "categorical" rejections without categorization of what they're rejecting. $MPLNpic.twitter.com/qlFWPduNyp

— MuddyWatersResearch (@muddywatersre) November 11, 2020
This response and the strength of Muddy's arguments likely pushed the shares down over 28%. With this campaign, Muddy also raised questions about the SPAC space in general. Financial Times published an overview.
Others on Twitter came out with their own experience about how convoluted the SPAC transaction can sometimes be.
Excellent thread on what can go wrong with SPACs. https://t.co/zjS26pOMyV

— MuddyWatersResearch (@muddywatersre) November 12, 2020
Interestingly, Muddy Waters signalled that next week they are going to release another short campaign.
On the other side of the fence, we saw a handful of campaigns seeing the stock move against them. Apart from the obvious gainers such as Cineworld of Cineplex, both up on vaccine news, we saw Celsius Holdings (CELH) move sharply against the campaign of ...
(Get full weekly report and stay on top of activist short selling developments - Join Breakout Point).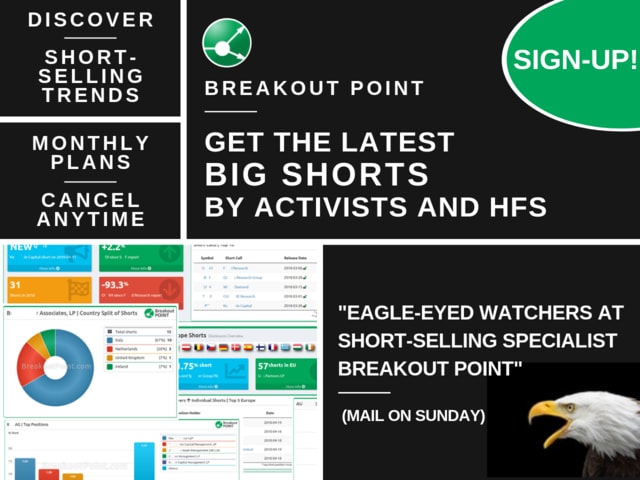 ---
FAQ | Q: Can I publish parts of above data and analytics in an article? A: As long as you reference our work in your article - yes, you can.
FAQ | Q: Could you provide more related data and analytics? A: Sure, join Breakout Point and start benefitng from our services.
* Note: Unless otherwise stated, presented data and analytics is as of available on 2020-11-14, UTC 16:45.
The services and any information provided by Breakout Point or on the Breakout Point website shall not be, or construed to be any advice, guidance or recommendation to take, or not to take, any actions or decisions in relation to any investment, divestment or the purchase or sale of any assets, shares, participations or any securities of any kind. Any information obtained through Breakout Point and its services should never be used as a substitute for financial or other professional advice. Any decisions based on, or taken by use of, information obtained through Breakout Point and by its services are entirely at own risk.