In very eventful 2021 we saw 135 new major short and critical campaigns. This is significantly down from 177 in 2020. Yet, short sellers achieved much more success in 2021 than in 2020.
On average, shares declined amazing 42.1% following a release of report, while in 47 cases decline was even higher than 60%.
Among the most successful were Hindenburg Research, Wolfpack Research and Kerrisdale Capital.
SPACs and meme-stocks got considerable attention, and short sellers nicely benefited by targeting these two areas.
We also note what what might be in store for activists in 2022.
---
2021: Get Shorty or Gains for Shorty?
While it was not an easy year for the short-sellers by many measures, activists delivered impactful campaigns which saw many stocks plummet and insiders scrambling to rebuild their reputation.
In 2021, we registered and tracked 135 new major short campaigns. This is about 24% lower than the number of campaigns recorded in 2020. At time of this report, on average, targeted stocks were down 42.1% following a short call/report. The ten best performing from 2021 are: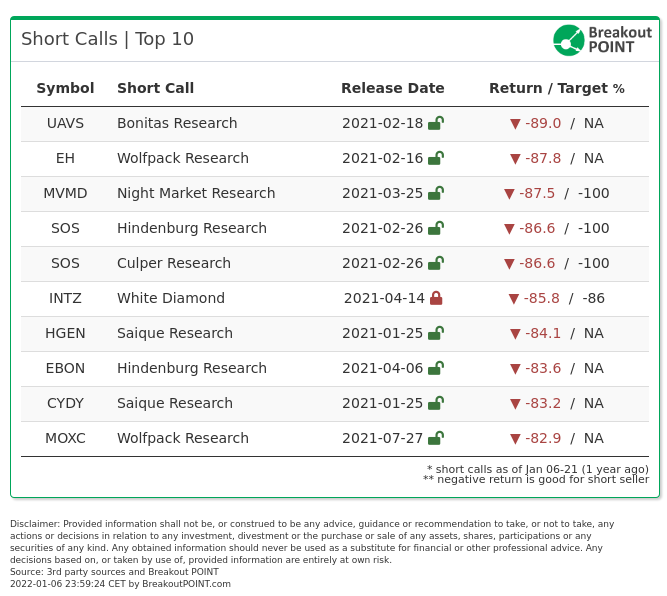 As usual, U.S. companies were most often in the focus of short and critical reports. On average, following 86 U.S.-focused reports, corresponding shares declined 44%. However, these declines pale in comparison to -57% of 13 Chinese targets and -53% of 12 Canadian targets.
---

---
Activists in Our Focus
The year 2021 was perhaps the year when Hindenburg Research solidified its position among the top authors of public critical reports. The activist had 9 calls this year and all of them are red. The 'least' successful was call against Ormat (ORA) where the stock is down only 10.5% since the initial report. Due to this stellar track record, Hindenburg's report are now among the most anticipated, while many company executives are probably breathing a sigh of relief whenever a new call appears and it is not their stock.
Another great year was also registered over at Wolfpack Research. They had four calls and three of them are now down more than 78%. The activist stuck with their core focus of targeted US-listed Chinese-based companies. Three of four calls were companies allegedly participating in the so-called China Hustle 2.0.
Kerrisdale Capital also had a successful year with seven campaigns, all of them in the red. This well-known activist was also busy towards the very end of 2021, as they published three new reports in December. If these fresh short picks are omitted, we end up with an average decline of 60% of their pre-December calls.
Kerrisdale was one of the few ones who launched campaigns against stocks that were heavily popular with the retail crowd. While Kerrisdale took heat for this, the campaigns were successful. Camber Energy (CEI), once touted by popular retail Twitter accounts, is now down more than 70% since Kerrisdale's initial report.
Another example is Virgin Galactic (SPCE). This space stock was extremely popular, but as the hype dissipated, investors were left with large losses. SPCE is down about 62% since Kerrisdale's report.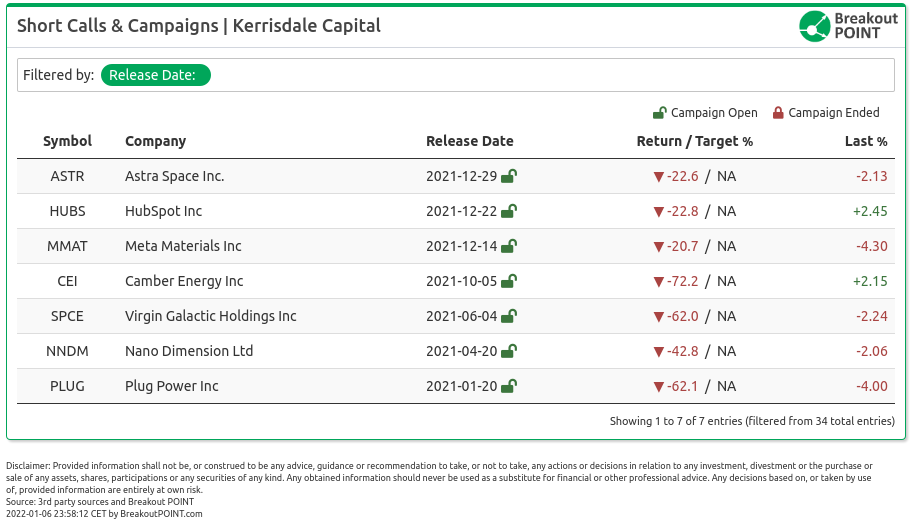 When it comes to those shorting popular retail stock, we need to mention two succesful flags by Iceberg Research (Note: there were no reports or much elaborations behind these fags). They first flagged THE meme-stock, AMC Entertainment Holdings Inc (AMC), and then the 'Trump SPAC', Digital World Acquisition Corp (DWAC).
---
Get most popular retail stocks. Track real time retail sentiment and retail popularity via our APIs and dashboards.

---
We believe it is also worth mentioning that while activists can and do target large-cap stocks, several short-sellers have honed skills in the small-cap world of under $1bn. Most importantly, it was Night Market Research (NMR) and White Diamond Research (WDR) who successfully scoured the sector for dubious companies. NMR had four calls this year and all of them are down substantially. Two already hit NMR's price target and the other two are close to 100% loss.
WDR is closely behind NMR with 2 campaigns also hitting their price targets and a number of others being largely in the negative territory.
While both short-sellers showcased great returns for most of the reports, from time to time small-caps can be treacherous as the stock can be sent higher on a number of things that might not directly disprove the thesis. As an example, for all could be Lightwave Logic. It was targeted by WDR, but bulls seemed to have defied the allegations and continue to push the share price up. WDR believes the downside opportunity is still there.
Regardless, the two activists showed small caps are a fertile hunting ground. Another one active in the area is Bleecker Street Research. Bleecker decided to come back and publish several campaigns in small cap space. Bleecker got famous a couple of years back for a campaign against AAC Holdings. This year, the activist is seeing further success.
All of Bleecker's four 2021 targets are down as per below.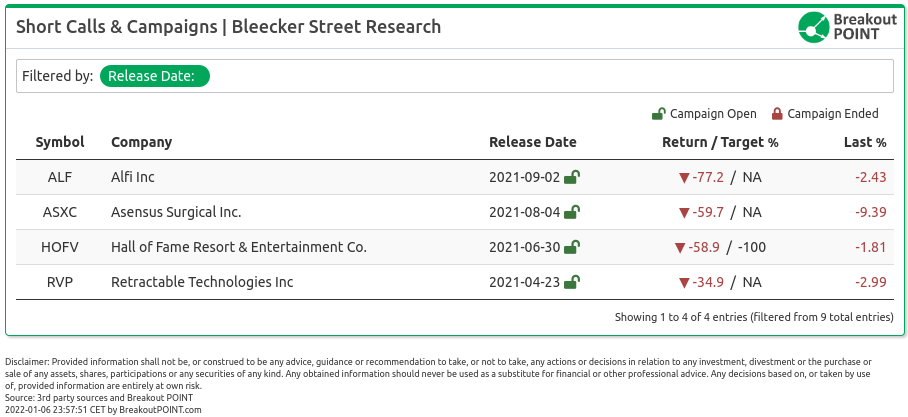 As the seemingly late-stage bull market is still out there, we are likely to see further campaigns in the small-cap arena going forward.
---
Many against short-sellers?
One of the main aspects of why 2021 was not easy for the short-sellers is that there was and to an extent still is a narrative that paints all short-sellers in a negative light.
First, it was many retail investors who openly went against short-sellers on Reddit threads and tweets. It is unlikely we have to explain the context of all this as the start of 2021 saw one of the most amazing share price surges in recent history. This price surge was January meme-surge in meme-stocks, such as GameStop (GME) and AMC. After that, the retail crowd never really dropped the animosity towards shorts.
The activists were not as much implicated (with the exception of Iceberg Research and Citron), but whenever there was a campaign aimed at a stock with a larger retail following, the usual social media channels were flooded with derogatory statements. This did not really affect the performance of some of the campaigns. We have written more in-depth about this clash of meme stocks and activists later this year in a blog post.
The second group of investors who were not happy with activists in 2021 were SPAC shareholders. Many campaigns have been aimed at companies that went public through this increasingly popular transaction due to allegations of dubious corporate governance, questionable business model and overall overvaluation by the market.
This short-selling trend did not sit well particularly with some of the institutional investors backing the SPACs as per below.
"Here's the thing about short-selling: I find it curious that we don't look at that more," says @Chamath.

"It's about creating sentiment shift and volatility, then profiting from that. I would love for folks to figure out whether that should be allowed or not." #DeliveringAlphapic.twitter.com/ScNjcWx4cE

— Delivering Alpha (@DeliveringAlpha) September 29, 2021
Chamath, the king of SPACs, certainly does not see eye to eye with the activists. It is unlikely that such 'arguments' are going to die out anytime soon. They were here before 2021 and they are likely going to be here in 2022. Animosity towards short sellers is also probably here to stay, after all, it goes back all the way to the first public stock and the first short seller:
---
What is in store for activists in 2022?
We are definitely excited to see how things turn out next year. There are plenty of campaigns that are still undergoing significant developments. Just look at Cassava Sciences in the last days of 2021. The stock had a volatile ride as the company tried to show a rebuttal against the campaign of QCM and others. The activists were not persuaded and are not stopping.
I'm quite shocked by the nonchalance with with $SAVA management serially suspends the trading of its stock to release trivial news seemingly based on fraudulent data while under federal investigation

— Quintessential Capital Management (@QCMFunds) December 21, 2021
And this is just one out of many. At the same time as activists are likely to continue their craft, the US government is interested to see how they have been going around their business.
In December 2021, it was announced the Department of Justice (DOJ) is investigating several funds associated with activist short-selling. The investigation apparently encompasses campaigns against GSX Techedu, Luckin Coffee and other stocks which were in the radar of activists. It seems DOJ is also interested in understanding the 'balance sheet' relationship which was in the focus this year as well as per the settlement in the case of Farmland Partners.
The outcome of the investigation will certainly be a highlight of 2022 as it will shed a light on how regulation of short-selling might shape up in the future. Meanwhile, cases such as J Capital's lawsuit in Australia might continue to pop up as other jurisdictions are also trying to get a better overview of the activist short-selling space.
Whatever the outcome of the vagaries of governments may be, we are certain that activist short-sellers will continue to shine the light onto public companies and will continue to ask the hard questions.
---
Don't miss latest activist short selling reports and insights - Join Breakout Point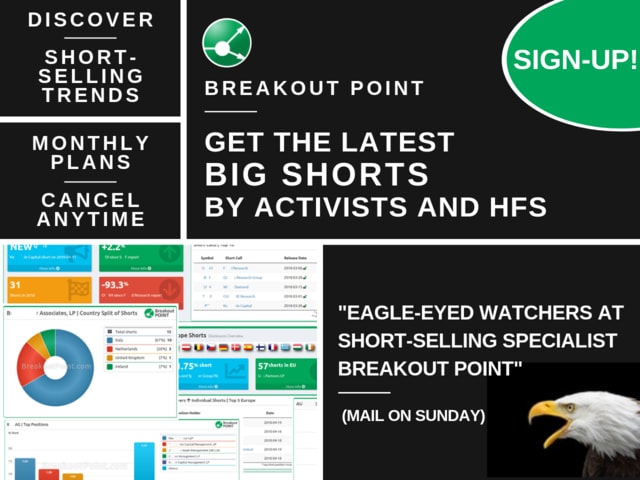 ---
FAQ | Q: Can I publish parts of above data and analytics in an article? A: As long as you reference our work in your article - yes, you can.
FAQ | Q: Could you provide more related data and analytics? A: Sure, join Breakout Point and start benefiting from our services.
* Note: Presented data and analytics is as of available on 2021-01-06, UTC 21:30.
The services and any information provided by Breakout Point or on the Breakout Point website shall not be, or construed to be any advice, guidance or recommendation to take, or not to take, any actions or decisions in relation to any investment, divestment or the purchase or sale of any assets, shares, participations or any securities of any kind. Any information obtained through Breakout Point and its services should never be used as a substitute for financial or other professional advice. Any decisions based on, or taken by use of, information obtained through Breakout Point and by its services are entirely at own risk.